The Triangle Shirtwaist Factory Fire: March 25, 1911
http://www.ilr.cornell.edu/trianglefire/
Kheel Center for Labor-Management Documentation and Archives at Cornell University in cooperation with UNITE! (Union of Needle Trades, Industrial and Textile Employees)
Reviewed June 2001.
According to its introduction, this Web site was created in response to requests for information on the Triangle Shirtwaist Factory fire from secondary school students. It serves this audience with a comprehensive but manageable selection of primary documents from a much larger collection. Thirteen newspaper and magazine articles, eight political cartoons, ten photographs, three oral histories, eleven first-person narratives from Leon Stein's anthology Out of the Sweatshop (1977), several investigation documents, trial testimonies, letters, a song, a radio play, and a recent photo essay on sweatshops past and present are accompanied by key secondary sources (passages from Stein's The Triangle Fire, 1962, frame the narrative, and a recently compiled list of the fire's victims is either error-prone or elevates the usually accepted death toll from 146 to 155) and by additional research and teaching aids (a selected bibliography of juvenile literature, fiction and poetry, audiovisual materials, and additional primary and secondary sources; related Web sites; a text on how to write a high school research paper; and a Web site map that outlines a logical sequence for research).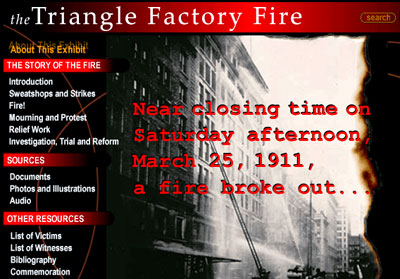 The above materials are organized into ten primary and seven secondary links, signaled by larger and smaller typefaces, respectively. Those links appear in a separate yellow vertical window that opens on the left of the home page and remains in place throughout a search, facilitating navigation at all times. Some of the materials appear more than once in varying configurations and to different ends. For example, political cartoons, photos, and oral histories have their own primary links that open to alphabetical lists. All appear again under the secondary link titled "Original Documents." The visual images, redistributed by topic, show up under one of two more primary links, "The Triangle Fire" or "Mourning the Dead." Seemingly redundant, such repetitions serve visitors looking exclusively for images, and they show beginning researchers what counts as original documentation and how to reconfigure materials by subject.
Texts and images represent a broad spectrum of publications. Excerpts from lengthy documents manage to introduce all aspects of the event and its prior history. (Difficult-to-find investigative material and trial transcripts online are important assets.) While most texts are carefully documented by source, the remarkably sharp pictures suffer from a lack of identification either by photo service or, in the case of cartoons, by artist (in fairness, signatures are difficult to read). If that information is unavailable, it would still be helpful to know the journalistic source for images, since that context may dramatically alter intended meaning or reception.
Naming and sequencing of links might be clearer in several places. The primary link "Sweatshops and Strikes before 1911" should be expanded by "and after" to highlight the UNITE! photo essay by Carla Metz currently buried in "before 1911." That work brings history into the present, showing how students can get involved in contemporary struggles and solutions with a series of additional links and information. Under secondary links, it would be useful to have the site map listed at the beginning rather than at the end of the list since it provides the research rationale that guides this second list.
These are minor quibbles with an otherwise accessible and useful site. Single-minded in its address to beginning historians, it also acquaints advanced researchers with the major sources on the fire in a well-organized framework. Consistent with its own archival mandate, its Triangle fire is first and foremost a story of labor. Neither original in its narrative structure nor interpretive in its presentation, the site lets its materials retell the story of the fire, factory working conditions, subsequent investigation and legislation, and present-day struggles.
Ellen Wiley Todd
George Mason University
Fairfax, Virginia