California as I Saw It: First-Person Narratives of California's Early Years, 1849–1900
http://memory.loc.gov/ammem/cbhtml/cbhome.html
American Memory Project, Library of Congress, Washington, D.C.
Reviewed April 2002
Amid the "gold rush" of historical Web sites now appearing on the Internet, California as I Saw It provides scholars, students, and the general public with a rich "lode" of published materials and primary sources. Offering significant contributions as a research and teaching resource, this Web site introduces both the novice user and the experienced online researcher to California's nineteenth-century history in the words of those who lived through this defining era. As "The Learning Page" notes, the Web site includes "complete works by Mark Twain, Robert Louis Stevenson, and William Tecumseh Sherman," in addition to "a rich array of journals, diaries, and letters illustrating everyday life."
Recognizing the limitations inherent in any survey of broad and sweeping historical eras, the Web site addresses a number of major historical themes detailed in the books and documents. From the furor and drama surrounding the discovery of gold in 1849 through the settlement, growth, and urbanization of late-19th-century life, California as I Saw It traces the economic, social, and political transformation of California in the "words of the men and women who helped shape it." The Library of Congress has culled from its extensive collections some 190 works totaling approximately 40,000 pages and more than 3,000 illustrations. Factors that influenced the selection of materials included the financial limitations of full-text conversion; the stress that scanning introduces to books and materials in poor physical condition; and the recognition that selected works are still protected by copyright law.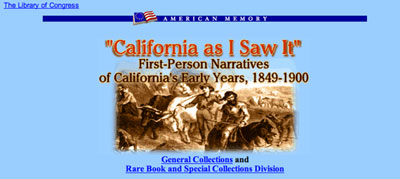 "The Gold Rush Era" is certain to be the most recognized feature of this Web site, and viewers will encounter a number of valuable resources. It is important to note, however, that first-person accounts include the words of African Americans and Hispanics and of Japanese and Chinese immigrants to California. The editors also recognized the challenge of representing the views of Native Americans and women during this turbulent period, and the use of secondary sources, in addition to those few published and primary source materials, is most welcome.
Supporting information provided to assist both the researcher and the teacher with the use of the Web site is impressive. In addition to a state map and extended reading list, viewers are introduced to "Collection Connections," a Web page that presents numerous excerpts and images from the digital collection. Grouped under headings for "U.S. History," "Critical Thinking," and" Arts and Humanities," these excerpts and images demonstrate the wonderful capacity of technology to further teaching, research, and learning by providing access to historical materials not otherwise available. Readers are linked electronically from brief excerpts to complete documents. Helpful search strategies and advice facilitate the location of additional works found in the Web site. Teachers and students are invited to engage in a process of critical thinking through a series of research projects designed to introduce aspects of historical analysis and interpretation into high school or lower level undergraduate research assignments.
The ability to engage in full-text searching of the entire Web site encourages research unthinkable in a print environment. The presence of higher quality digital illustrations would enhance the textual information, but this in no way detracts from the exciting contribution offered to the student, teacher, and scholar of California history.
William E. Brown Jr.
University of California
Berkeley, California