Panoramic Maps, 1847–1929
http://memory.loc.gov/ammem/pmhtml/panhome.html.
Created and maintained by the Geography and Map Division, Library of Congress, Washington, D.C. Reviewed Dec. 25, 2000-Jan. 2, 2001.
Panoramic Maps is an archive site providing access to over 1,500 maps of cities and small towns in the United States (except for Mississippi) and, to a lesser extent, Canada for both the researcher and teacher. Most popular in post-Civil War America, panoramic maps allowed city politicos and merchants the opportunity to tout their community and its "up and coming" spirit. The maps reflect this buoyant optimism. In panoramic views, it always seems to be a midsummer day in a prosperous town. The factories operate at full capacity, smoke pouring from their stacks. Cargo vessels fill the harbors, and trains race along tracks.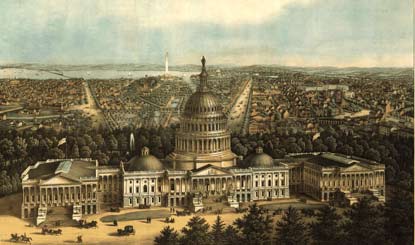 Most panoramic cartographers drew their maps from an oblique aerial perspective, filling their image with such minute detail that it is possible to discern the architectural features of individual buildings. The mapmakers also caught moments in time. In 1883, for example, the people of Butte, Montana, watched the remodeling of their courthouse. Henry Wellge, one of several panoramic artists, captured the moment, and the contemporary viewer can see a ladder propped against the courthouse wall. Similarly, the Wellge 1875 depiction of Bangor, Maine, shows a combination of sail- and steam-powered ships in the Penobscot River and catches the crucial transition from sail to steam—a conversion that marked the decline of Maine's shipbuilding industry.
Like other Library of Congress online archives, the site furnishes multiple and clearly delineated ways of locating particular maps. The site supports searches by keyword and browsing by geographic location. In addition, there are subject, creator, and title indices. Panoramic Maps also includes an overview and biographical essay discussing, respectively, the phenomenon of panoramic maps and the careers of the craft's luminaries. Most useful is the site implementation of LizardTech's MrSID. Adapted from military spy satellite technology, MrSID allows the viewer to zoom in and out on the maps without image degradation. Because many of the panoramic maps are the size of small area rugs, MrSID permits access to a rich document source that is virtually impossible to study without physically visiting the repository.
The architectural and urban historian will "romp with joy in the bookish dark" of the panoramic map archive. Researchers can examine areas of a city and buildings that photographers neglected and discern three-dimensional relationships that are unavailable from two-dimensional renderings. Many of the larger cities in various states have panoramic views from different periods, so chronicling transformations of various sorts over time is possible. Both secondary and postsecondary teachers will find examples from the archive to use as the basis for classroom exercises. The Library of Congress provides a host of interesting suggestions on its Learning Page both in the "US History" and "Historical Thinking" areas. Instructors will also find Gerald Danzer's "Bird's-Eye Views of Towns and Cities" in David Buisseret's edited collection From Sea Charts to Satellite Images (1990) a practical introduction to thinking about or using panoramic maps. Because download times can be tedious over modem connections, it is useful to download both the MrSID Viewer (free from the developer via a link) and the MrSID image (5–7 megabytes) to acquire "zoomed" images for classroom or research use. All in all, the Panoramic Maps archive represents one of the finest examples of a Web-based archive both in terms of breadth and quality and in terms of use of Web capabilities.
Paula Petrik
George Mason University
Fairfax, Virginia