Without Sanctuary: Photographs and Postcards of Lynching in America
http://www.withoutsanctuary.org/main.html
Photographs ed. by James Allen. Web site developed by Journal E.
Reviewed Dec. 24–31, 2000.
Without Sanctuary is the companion Web site to the acclaimed book (Without Sanctuary, 2000) and museum exhibition of James Allen's haunting collection of souvenir photographs of lynchings from late-nineteenth- and early-twentieth-century America. Produced by Journal E, a multimedia development company that creates interactive museum kiosks and promotional Web sites for books, the site comprises three parts: a Flash-format movie narrated by Allen, an online exhibition of approximately eighty photographs, and an electronic forum through which visitors can post comments for others to read. The site is intended for a general audience, but elementary-school-age visitors may need adult guidance to help answer the difficult questions that the violent images will certainly provoke.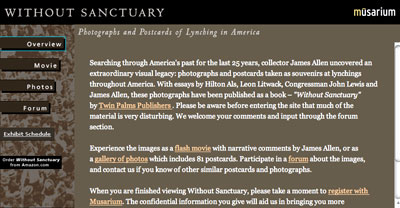 Although Without Sanctuary can be faulted for poorly contextualizing its deeply disturbing subject matter, Allen's five-minute Flash movie demonstrates that with the exercise of a little historical imagination these images can speak for themselves. In his narration, Allen tells the story of the first time he came across a postcard of a lynching and recounts the bewildered horror that it evoked in him—not so much from the sight of a black corpse hanging from a tree as from the sight of the white crowd lingering around the body. This hermeneutic of horrified bewilderment is complicated by the realization that, like the lock of victim's hair that was framed with the image of the corpses of Thomas Shipp and Abram Smith, these photographs were created to serve not as criminal evidence, but as ritualistic fetishes of lynching's terror.
Modem users may balk at the prospect of waiting ten or twenty minutes to download this 3.6-megabyte movie, but most visitors will find that its introspective narrative provides a useful framework through which to begin making sense of the disconcerting images in this exhibit. Indeed, one wishes that the producers had also created Flash versions of excerpts from the book's accompanying essays by Hilton Als, Leon Litwack, and Rep. John Lewis to help the general audience make even better sense of this difficult material.
Most visitors to Without Sanctuary will probably spend the bulk of their time browsing the photo gallery. Each image is provided with a brief description and attribution; additional information about individuals or events portrayed in many of the images can be accessed through a pop-up window. Most of the photographs date from between 1900 and 1940 (a few date from the nineteenth century; one, from 1960). The victims, two-thirds of whom have been identified by name, are mostly African American men (about half a dozen victims are white; two are female), and almost half of the lynchings have been identified as having taken place in midwestern or western states. Unfortunately, the online gallery is not as well produced as the Flash movie clip. Many of the images are too small, rendering details imperceptible, and too many appear washed out (unlike the excellent reproductions in the book). A few photographs permit one to click on the image to view an enlargement, a useful feature that should have been incorporated more fully into the gallery's design.
Without Sanctuary could have been more thoughtfully designed, but if it compels visitors to purchase the book or attend the museum exhibition then it will have served its purpose well.
David Phillips
Wesleyan University
Middletown, Connecticut