Divining America: Religion and the National Culture
http://nationalhumanitiescenter.org/tserve/divam.htm
Created and maintained by TeacherServe from the National Humanities Center, Research Triangle Park, N.C.
Reviewed March 22–24, 2005.
The history of American religion has been largely shunned as an academic subject in public secondary schools. In recent years, however, there has been a growing desire among many teachers to incorporate religious history into social studies and humanities curricula in public schools. Divining America is an excellent resource for teachers and students of American history looking to enrich narratives of the nation's past by treating the religious dimension. While the site is oriented primarily toward public secondary school teachers, it is also highly appropriate for teachers in religion-affiliated schools where the comparative historical study of America's religious traditions is a curricular option.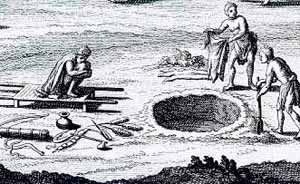 An Iroquois funeral as observed by a French Jesuit missionary, early 1700s.
The Web site is built around brief chronological essays by leading scholars on topics from "Native American Religion in Early America" to "The Christian Right." The essays are attentive to institutional religion and personal piety, liberalism and fundamentalism, ethnicity and gender. Though the site features a strong essay on "Religion in Post–World War II America," an additional comparative chapter on the religious impact of post-1965 immigration to the United States would greatly enhance the site's offerings. Students in every corner of the nation routinely experience a new, amazingly diverse religious marketplace whose sources are just beginning to attract the attention of historians. The Web site highlights an excellent essay by Thomas Tweed on "Islam in America," but recent immigration has transformed American Christianity as well.
The essays in Divining America provide links to online resources and, in some but not all cases, bibliographical materials. The site would be enhanced by greater consistency in formatting access to these supplementary materials. The essays also include highly useful guides to promoting student discussion: Laurie Maffly-Kipp (on African American religion) and Julie Byrne (on Catholic immigrant history) offer especially insightful tips for generating discussion that will work in undergraduate classrooms as well as in secondary schools. Maffly-Kipp's teaching guide provides links to a tremendous array of rewarding primary sources.
The site's principal interactive feature, "Getting Back to You," invites dialogue between teachers and students and the historians represented in Divining America. This section is organized by religious tradition, not chronology, a wise move since many students are initially attracted to the study of religion from the perspective of their own traditions and their relationship with others. "Getting Back to You" opens discussion of religious practices that are extremely important but often evade the scrutiny of historians. One correspondent, for example, sought information on "watch meetings," a New Year's Eve tradition of hope and thanksgiving found in many southern black churches, whose origins have never been documented.
Divining America includes links to documents treating the constitutional issues involved in teaching American religious history in public school classrooms. This is extremely important because many public school teachers have been misled to believe that it is illegal to discuss religion in class, even as a historical phenomenon. Unfortunately, the link to the most valuable of these documents (Finding Common Ground: A First Amendment Guide to Religion and Public Education) was broken as of the January 2005 revision of Divining America. In addition to restoring that link, the sponsors of this fine Web site might also provide a forum for reflection on the teaching and study of American religion in light of contemporary debates over religion and politics.
James T. Fisher
Fordham University
Bronx, New York