Hagley Museum and Library, Digital Collections,
http://digital.hagley.org/
Created and maintained by Kevin Martin, Curator of Digital Collections.
Reviewed May 14–16, 2009.
"The chief business of America is business," Calvin Coolidge once remarked to a meeting of newspaper editors. Thus it is not surprising that much of the history of the nation can be found in the archives of the entrepreneurs and companies that developed the American economy.
The Hagley Museum and Library in Wilmington, Delaware, offers one of the richest collections of materials on the history of American enterprise in the country: more than 34,000 linear feet of manuscripts and archives, nearly two million images in its pictorial collections, and 280,000 printed volumes among its imprints. Through its digital archives, the Hagley Museum now offers remote researchers access to more than 50,000 items from this collection.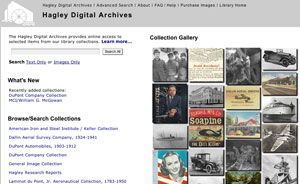 The Hagley's approach to digitizing has been pragmatic, focusing on the "low-hanging fruit," says Kevin Martin, curator of digital collections. The online general image collection currently includes more than 7,000 photos ranging from storefronts to ship launches. Photographs from the Dallin Aerial Survey Company document the landscape and urban development of the mid-Atlantic seaboard during the years between World War I and World War II. Other collections highlight the expansion of transportation-related industries, including shipbuilding, aviation, and automobile design and manufacturing. Two collections focusing on companies in the coal, iron, and steel businesses offer slices of life from those basic industries between 1810 and 1973. Meanwhile, a colorful digital collection of 130 postcards depicts motels and other roadside attractions primarily in the South between 1930 and 1960.
The Hagley's digital archives include a wealth of trade catalogs, pamphlets, and other ephemera that document the products of American industry. This collection is represented online with nearly 500 items. CONTENTdm interface allows researchers to study each page of a publication. They can, for example, peruse the plans in the "Presto-Up Patented Bolt-Together Garages" brochure that promises customers "less effort than rubbing Aladdin's lamp." Or those scholars interested in the idea of beauty in mid-twentieth-century America can view the pages from Miss America pageant programs from 1945 to 1967.
Searching within the Hagley's digital archives is easy using either keywords or browsing strategies. Unfortunately, the interface does not allow the researcher to zoom in on and slide over these documents. There is also no integrated system for purchasing and downloading high-resolution copies. Patrons interested in obtaining images will need to re-enter cataloging information onto a separate order form that is available on the Web site. These issues will, no doubt, be addressed as the site matures and adds more content.
Nevertheless, the Hagley's digital archives offer a rich opportunity for researchers interested in the business of business and the view of American culture as seen from the ad man's desk and through the photographer's lens.
Eric John Abrahamson
Vantage Point Historical Services
Rapid City, South Dakota