Votes for Women: Selections from the National American Woman Suffrage Association Collection, 1848–1921
http://memory.loc.gov/ammem/naw/nawshome.html
Created and maintained by the Rare Book and Special Collections Division, Library of Congress, Washington, D.C.
Reviewed July 18–Aug. 10, 2010.
By Popular Demand: "Votes for Women" Suffrage Pictures, 1850–1920
http://memory.loc.gov/ammem/vfwhtml/vfwhome.html
Created and maintained by the Print and Photographs Division, Library of Congress, Washington, D.C.
Reviewed July 18–Aug. 10, 2010.
Votes for Women and By Popular Demand are online exhibits and related archives provided by the Library of Congress's American Memory project. Like other American Memory Web sites, they highlight portions of the Library of Congress's vast collections around a particular theme, in this case that of the battle for suffrage in the United States. Both sites were designed with the general public in mind but will also be useful to scholars searching for unique primary sources and to teachers looking to enrich their students' understanding of women's suffrage.
Votes for Women has digitized part of the National American Woman Suffrage Association Collection. On the site are 167 books, pamphlets, and other items originally donated to the library by the suffrage leader Carrie Chapman Catt. Some items came from the personal libraries of such notables as Elizabeth Cady Stanton and Lucy Stone. The Library of Congress wanted simultaneously to provide an overview of the wide range of suffrage opinions and to digitize materials not commonly found in other publications or archives.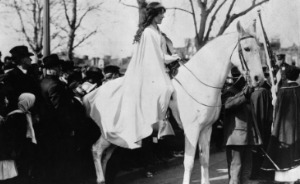 Inez Boissevain wearing a white cape, seated on a white
horse at a suffrage parade in Washington, DC, in 1913.
To help navigate the online resources, the library has helpfully provided three tools. The first is a timeline of major events in the one hundred years leading up to the suffrage victory. Though only an overview, the timeline is quite inclusive: the activities of African American women and women in the American West can be found alongside those of notables such as Stanton and Susan B. Anthony. The second is a guide to related resources both inside and outside of the Library of Congress. The third is "Collection Connections," which puts the collection in its historical and thematic context and suggests useful ways that teachers can use the materials in the classroom. From here, users navigate to "Classroom Materials" and then "Primary Source Sets" where they will find a smaller collection of primary-source materials and a teacher's guide on women's suffrage.
The digital collection may be searched by keyword or browsed by author, subject, or title. This keyword search interface is probably most useful for researchers who already know what they want from the collection. For example, a quick search for "California" turns up two rare biographies of women active in the West Coast suffrage movement, one from Los Angeles and one from Fresno. For those who want to approach the topic more broadly, the browse function allows users to see lists of authors, titles, and subjects. Select the "Negroes — Politics and suffrage" subject and the link takes you to a pamphlet published by Senator Charles Sumner in 1869 entitled "Powers of Congress to Prohibit Inequality, Caste, and Oligarchy of the Skin." The pamphlet can be read online, or a single page at a time can be saved as an image (but not, unfortunately, the entire document). Text quality is generally good, and most items can be read online with little or no difficulty.
The related By Popular Demand exhibit and archive draw on the collections of the Library of Congress to provide a "pictorial partner" for the text documents in Votes for Women. Items range from portraits to political cartoons to photographs of suffrage marches. Many of them are items already heavily requested by library users, while others are images of notable persons and events related to suffrage. This site shares the one-hundred-year timeline found at the Votes for Women site and its "Collection Connections" page is virtually identical. But By Popular Demand also has its own "Selected Bibliography" and "Related Holdings" links. The selected bibliography will be especially useful for students and scholars unfamiliar with the historiography of visual images as source material on the suffrage movement.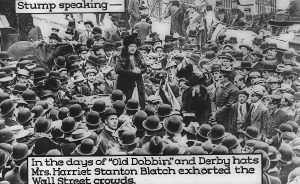 "Stump speaking—In the days of "Old Dobbin" and Derby hats
Mrs. Harriot Stanton Blatch exhorted the Wall Street crowds,"
created between 1915 and 1920.
The archive can be searched by keyword or browsed by name or subject. Many images are forceful reminders of the risks suffragists took. A photo of the activist Harriet Stanton Blatch shows her delivering a stump speech to a largely male crowd on Wall Street. Blatch is surrounded by a veritable sea of bowler hats as well as police officers, who appear to be watching her carefully. Other items, such as the cover of the official program for the 1913 woman suffrage procession in Washington, D.C., are as much works of art as they are pieces of political history. The program cover shows a young page on horseback blowing a trumpet while leading women in a march past the Capitol dome.
Images of nonwhite women and women west of the Mississippi are largely absent, which is the most notable limitation of this collection. However, because this is a small collection and because the focus is on the most notable personages in the suffrage movement, that limitation is understandable. Most items in the collection are in black and white, but a few are in color. Online resolution is excellent, and a high-quality JPEG version of some items is also available.
Taken together, these two collections demonstrate the power of new media and technology to add to the story of the fight for women's suffrage in the United States. As every teacher knows, it is one thing to read about suffragists in a textbook; it is quite another to see their writings, their photographs, and their publicity materials. While neither Votes for Women nor By Popular Demand is exhaustive in its coverage, each contributes to our understanding of American women's suffrage and will be a valuable resource for years to come.
Eileen V. Wallis
California State Polytechnic University
Pomona Pomona, California