Urban Experience in Chicago: Hull-House and Its Neighborhoods, 1889–1963
http://www.uic.edu/jaddams/hull/urbanexp/
Created by Rima Lunin Schultz, Ellen Skerret, and Sarah Hoadley. Maintained by the Jane Addams Hull-House Museum and the College of Architecture and the Arts, University of Illinois at Chicago.
Reviewed July-Aug. 2009.
Jane Addams Hull-House Museum
http://www.uic.edu/jaddams/hull/
Created and maintained by the Jane Addams Hull-House Museum and the College of Architecture and the Arts, University of Illinois at Chicago.
Reviewed July-Aug. 2009.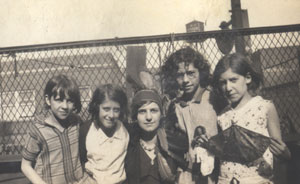 From the image collection, "Sophie Trifshik (Goren), Hull-House Volunteer."
Original caption: "(Handicraft 'Indian Club') One of my First Groups."
No history of the U.S. settlement house movement is complete without a discussion of the social activist Jane Addams and Hull House. And no location was more affected by Addams and Hull House than Chicago, where the thirteen-building complex served a densely populated, ethnically diverse neighborhood on the city's Near West Side. Two Web sites hosted by the University of Illinois at Chicago offer a complex and satisfying portrayal of Addams and of Hull House in its local urban context. Together they provide a richer understanding of Hull House's significance in past and present Chicago.
Urban Experience in Chicago offers scholars, teachers, and students a wealth of resources, including primary sources, maps, images, interpretive essays, and a section on teachers' materials. An introductory page to the site acts as a textual site map and introduces the five major content sections: "Historical Narrative," "Timeline," "Images," "Geography," and "Teachers' Resources." A "Search Historical Narrative" page offers a number of ways to search documents, primary sources, and images within site-established parameters. The major sections are easily reached by navigation buttons at the top of each page, but the lack of a pull-down or fly-out menu means that several clicks are required to reach a desired section.
Launched in January 2003, the site was, according to the introduction, "conceived as an on-going research project that engages scholars and students at the University of Illinois at Chicago." The "Historical Narrative" section contains the majority of the content, comprising scholarly essays, transcribed primary source documents, portable document format files (PDF) files of original documents, and historical photographs. Most of the historical narrative is written by the independent scholar Rima Lunin Schultz, the editor of the site and co-editor with Adele Hast of Women Building Chicago, 1790–1990: A Biographical Dictionary (2001). Thematic and chronological sections outline Hull House's place in Chicago's history and in the settlement house movement. Documents span 1888 to 1963, beginning with a discussion of Chicago's political climate in the late nineteenth century and ending with the 1961 relocation of the University of Illinois that led to the destruction of all but two of the Hull House buildings.
The historical photographs that Urban Experience in Chicago makes available online are the real highlights of the site. Three sections accessed from the top navigation bar are image based, including a timeline of Jane Addams's biography and a selection of fully documented photo essays on the Hull House complex and the neighborhood. A "Geography" section offers a graphic representation of how the complex grew from one building to thirteen and displays the famous 1895 Hull House nationality maps, among others. Finally, a "Teachers' Resource" section offers lesson plans on Hull House during the Progressive Era, children's play space in nineteenth-century Chicago, and Addams's Twenty Years at Hull-House (1912).
The Urban Experience in Chicago site is clearly focused on the physical and historical context of Hull House in its urban environment as well as the role that Addams and other women played in the settlement movement and in Chicago. It is a rich resource for academic historians, casual students of history, teachers, and high school students. The site takes advantage of the online medium by being fully searchable and allowing users to control the depth to which they explore subjects, either by clicking through the essays or returning to the top navigation bar. The site is not terribly dynamic, however, and how it functions as an "on-going research project" is unclear. It appears to have been conceptualized as an online book, with an introduction, site credits, and a home page that functions as a table of contents. The use of a splash page that necessitates clicking "Enter" to access the site may deter casual visitors. The site would also be enhanced by adding "title tags" to the photographs (that is, text that displays when a mouse is held over the image). These brief descriptions would also increase the site's accessibility for visually impaired visitors who use screen readers.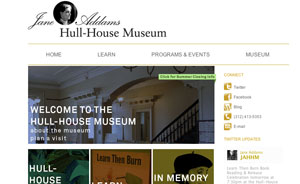 Jane Addams Hull-House Museum complements Urban Experience in Chicago by adding a current perspective to the historic settlement house and its Chicago neighborhood. It is an up-to-the-minute resource for visitors with many different agendas and needs. The home page offers links to events and activities sponsored by the museum and to a wide variety of resources. Neighbors and Chicago residents will find programs that resonate with Hull House's history and historic mission as a neighborhood center for culture, activism, and communal activities. Programs listed for August and September 2009 included Hull House Kitchen's "Preserving Equality: Preserving Fruits and Vegetables" Canning and Preserving Training Days and the ongoing "Re-Thinking Soup" program where visitors gather in the Hull House Residents' Hall each Tuesday at noon for soup and conversation.
The site offers a variety of information and resources such as museum hours and location, exhibitions, events, and educational and scholarly materials. A page with a description of the Jane Addams Memorial Collection in the University of Illinois at Chicago Special Collections Department acquaints the visitor with the host institution's research holdings. The Jane Addams-Hull House Museum site serves many functions in an accessible and logical way. Although some of the links do not work, the site invites repeat visits to learn about museum events, and it sparks a desire to visit this vibrant urban resource.
The Urban Experience in Chicago site also inspires visits by making the history of the Hull House neighborhood come alive. Despite, or perhaps because of its bookish qualities, the site allows users to immerse themselves in the images and language of the past, with authoritative historical narrative as their guide. Although it may be better served with a more modern design, Urban Experience in Chicago offers a context for Hull House and Jane Addams that enhances our understanding of the settlement house movement and city life at the turn of the twentieth century.
Meg Meneghel MacDonald
University of Washington
Seattle, Washington