Lincoln/Net: Abraham Lincoln Historical Digitization Project
http://lincoln.lib.niu.edu
Created and maintained by the Abraham Lincoln Historical Digitization Project, Northern Illinois University.
Reviewed Sept. 12Ė19, 2002.
The Abraham Lincoln Historical Digitization Project has in many ways created a model historical Web site with its comprehensive and easily navigated Lincoln/Net. The site is dedicated to illuminating Lincolnís life before he became the sixteenth president of the United States. While Lincoln is the primary focus of the site, Lincoln/Net also includes a wealth of information about Illinoisís early statehood. This broader context is one of the siteís great strengths, for it allows users to move beyond biography and see Lincoln as a product of his age and environment. His contemporaries, according to the site, described him as having lived a "representative life," and Lincoln/Net tries to explore that everyman image in as much detail as possible. The richness of its content makes this site a valuable resource for students of Lincoln himself and antebellum America more generally.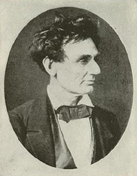 The site has two main components: an archive of primary sources related to Lincoln and antebellum Illinois, and a collection of narrative essays, graphically represented by horizontal and vertical navigation bars. The archive—which includes thousands of pages of documents, dozens of digitized images including maps and photographs, sound files of campaign songs, and video clips of historians—can be either browsed topically or keyword searched. The site also contains several introductory slide shows and a few lesson plans for teachers, keyed to Illinois state standards. The primary sources are easy to navigate and work with. The texts draw on the larger resources of the Illinois Historical Digitization Project and range from excerpts of published works to pamphlets to personal letters. They are fully transcribed but also contain links to images when available. The sound clips and videos of talking heads add another level of richness to the siteís materials.
Such a wealth of sources can be overwhelming, especially to the casual browser, and to their credit Lincoln/Net has provided a solution: the narrative essays. They are divided into two groups: one collection focuses specifically on Lincolnís life, broken down roughly by decades, while the other is more broadly thematic. The thematic group has eight sections, on African Americans, women, religion, life on the frontier, politics, law, relations with Native Americans, and economics. They are well-written, concise overviews that reflect current trends in historiography. Each one is attributed to a specific author, generally a member of the projectís staff (though essays are being commissioned from other historians), a welcome feature on the often authorless Internet. Yet the essays contain no internal links to related documents and images. Each one is accompanied by a bibliography of both online and published sources, but the text itself lacks any links or illustrations. Because of this, the site seems strangely bifurcated, unsure of which of its two missions to emphasize, with the sources and the text divided from one another. The essays would be more effective if they took advantage of the rich possibilities of the hypertextual environment.
This shortcoming aside, Lincoln/Net is an excellent example of the possibilities for serious scholarship on the Web. By providing users with secondary narratives as well as primary sources, they have expanded on the archival model in useful and informative ways. One only hopes they will forge more complex connections between text and document as well.
Anne Sarah Rubin
University of Maryland, Baltimore County
Baltimore, Maryland