CongressLink
http://www.congresslink.org/
Created and maintained by the Dirksen Congressional Center, Pekin, Ill. Created by Frank Mackaman and Cindy Koeppel.
Reviewed Sept. 12, 2006.
CongressLink is a model Web site for information on how the U.S. Congress works. It is designed primarily for grade school and high school level government and civics teachers and students, but its sophistication and range of information make it useful to anyone interested in exploring Congress. It offers links to the best Web sites on various aspects of Congress. It also contains original content, drawing on the papers of Senator Everett McKinley Dirksen and his role in the 1964 Civil Rights Act. This is a mature, well-designed, and intuitive site that has gone through a decade of revisions and improvements since it first went online in 1996.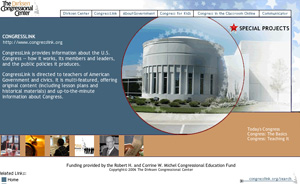 CongressLink is the keystone of a suite of related components: AboutGovernment, Congress for Kids, Congress in the Classroom Online, and Communicator, a monthly online newsletter, currently with a subscription of 25,000, that keeps users abreast of changes in the entire suite.
CongressLink is divided into three sections that help users quickly get to the kind of information of interest to them. The first section features the current Congress, with practical information such as how to write members of Congress, lists of party leaders, information on congressional districts, and recent election results. The second part, "Congress: The Basics," provides access to valuable Congressional Research Service reports, basic texts such as the Federalist Papers, and a U.S. Constitution hyperlinked to a glossary. The third part, "Congress: Teaching It," contains well-honed lesson plans, historical notes, and other information useful to teachers.
The strength of this site lies less in its original content and more in its ease of use and solid integration with many of the best and most useful Web sites on Congress.
Raymond W. Smock
Robert C. Byrd Center for Legislative Studies, Shepherd University
Shepherdstown, West Virginia