Nineteenth Century California Sheet Music
http://people.ischool.berkeley.edu/~mkduggan/neh.html
Mary Kay Duggan, University of California, Berkeley.
Reviewed April–Nov. 2010.
Launched in 1997, this Web site enables access to over 2,700 pieces of sheet music published in California between 1852 and 1900. Evidently designed for both the general public and scholars, the site has several useful aspects. First, it offers highly detailed information, including each piece's composer, title, publisher, and date published. Second, it has five different search functions to access that information, along with twenty-nine categories that describe the types of sheet music found in the collection. Third, since the sheet music was scanned in color, the viewer sees what the covers to the sheet music looked like—an art form in themselves. Viewing possibly the oldest piece of sheet music published in California, "The California Pioneers" (1852), is alone worth the visit.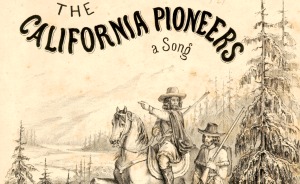 "The California pioneers: A song," Dr. M. A. Richter, c1852.
Some topics are better covered than others. "Politics" fortunately proves to be one of the best sections; it includes songs on the Civil War, the Spanish-American War, and political campaigns. Of the different ethnic or national categories given, "African American" is of substantial merit, used to cover a variety of different genres of African American music and all of the collection's forty-eight minstrel songs—very helpful for scholars studying a common genre of the era. There are also musical instrument digital interface (MIDI) files of the minstrel songs, which suggest what the melodies sounded like.
Several problems mar this site, however. There seems to have been little methodology used to create some of the categories ("Chinese," "Hawaiian," "Buildings," "Sports"), and the contents of each category are highly uneven: some have several paragraphs of explanation, and others have only a few sentences. For the category "Dance in California," a brief description of each dance type (such as the quadrille, the quickstep, or the galop) would be helpful for nonspecialists. The category of "Composers" also includes lyricists and performers, suggesting the need to organize the material more effectively. It is unclear why some composers' songs are emphasized over others, and cross-referencing is minimal. Further, statements such as "Italian opera was popular all over the world in the nineteenth century" and "The schottische was a popular dance across America and the world" are not helpful. Thus the site lacks a scholarship more grounded in popular music history, and the bibliography of related literature that might guide the viewer further is exceedingly brief, although there is a list of ten other sheet music Web sites.
Even more ominous, several vital functions were not in operation as of this writing, and it appears the site has not been updated in some time. Two of the five search tools—"Browse Subject" and "Browse Image"—did not work. Numerous links, such as those to visual or audio files and to a map of California, were broken. Several songs with audio files required a username and password—a curious requirement for works that are largely in the public domain. To sum up, there is a treasure trove to be mined here, and the site is a good place to start, although much work remains to be done.
Kenneth H. Marcus
University of La Verne
La Verne, California