Toledoís Attic: A Virtual Museum of Toledo, Ohio
http://www.toledosattic.org
A program of the Lucas County—Maumee Valley Historical Society;
directed by Timothy Messer-Kruse. Launched Sept. 2, 1997.
Reviewed Sept. 2002.
This site is aptly named. In an attic, boxes accumulate without logic except for their association with the history of something—in this case, Toledo. Each box reflects the interests of the individual who assembled it. It is fun to look around, but it is labor-intensive to draw connections between different containers. Like an attic, the site is not strong in aesthetics. Despite some original and attractive features, unadorned lists and bullet points abound. There are many small and illegible images and broken links. Given those limitations, one finds innovative public history. Let us open a few boxes.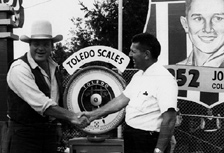 The 1900–1970 timeline is a good place to begin for those who are unfamiliar with Todeloís history. The entries are bare-boned but spark productive juxtapositions. One wonders how two 1934 events coincided—the election of a socialist mayor and a strike sparking "mass civic rebellion." In another vein: by 1970, urban renewal had cleared a breathtaking one-fifth of the cityís land area. Here the siteís strengths in the built form, industry, labor, politics, and historic preservation are evident.
Two interactive guest books containing over eight hundred comments hint at the topics visitors to the site have found to be resonant. One sees the publicís passion for collecting Toledo products such as scales and wheelchairs. There are inquiries seeking information about city locales, institutions, and people (a school principal, Louise the Personality Girl, factory friends).
In contrast, few have responded to "Talking to Stone: Toledoís Historical Monuments"—a tour of marked and unmarked sites. Professor Timothy Messer-Kruseís essay makes academically rooted observations accessible, and the images include 360-degree panoramic views from monuments. While the exhibit is well conceived, the silence suggests that academics have more interest in monuments than visitors do. Additional exhibits address preservation. In the eye-catching "Lost Landmarks of Toledo," photographs of demolished structures fade into views of what has replaced them.
The promising "1902 Walking Tour" allows one to descend into the absorbing details of a surprisingly legible Sanborn map. Block by block one navigates the city, activating "Related Stuff from the Attic" such as photographs, national register nominations, newspaper stories, or a Northwest Ohio Quarterly article. Organizing information by city block brings a new perspective to the built environment.
Sitewide searches locate related documents buried in different boxes. Entering "Libbey" produced ninety-two records, including information about the glass factory, the firmís president, institutions honoring him, and an impressive array of articles. Many items, however, are unlinked citations. Some unique material is found by browsing, not searching. "Faces of Steel: The People and History of the Acklin Stamping Company" contains the transcript of an interview with Acklinís first African American female employee. "Glass from the Past" has spectacular images but little text. The siteís rich industrial photographs are not well documented.
Toledoís Attic gathers under one roof diverse projects, whether generated by university courses, scholars, or Toledo enthusiasts. Accordingly, research quality varies. The site provokes interesting questions and provides sources and links for beginning to answer them (few topics have adequate primary material for undergraduate papers). A Toledo bibliography whould be a useful addition, as would bibliographies on related scholarship not unique to Toledo—such as historic preservation, industrial photography, or reading Sanborn maps. The site is valuable for facilitating historical interest in an underresearched city such as Toledo.
Alison Isenberg
Rutgers University
New Brunswick, New Jersey