Bethlehem Digital History Project
http://bdhp.moravian.edu
Directed by Julia Maynard Maserjian; sponsored by the Bethlehem Area Public Library and the Reeves Library, Moravian College and Theological Seminary, with the participation of the Moravian Archives, the Moravian Historical Society, and the Historic Bethlehem Partnership.
Reviewed Jan. 2—May 9, 2003.
The eighteenth-century Moravian community of Bethlehem, Pennsylvania, has recently attracted fresh interest from historians studying midcolonial ethnic diversity and eighteenth-century Anglo-Indian relations. The Bethlehem Digital History Project promises to whet further this curiosity through a well-designed virtual exhibit of sources selected to "illuminate key elements of the Bethlehem community from its founding in 1741 through 1844."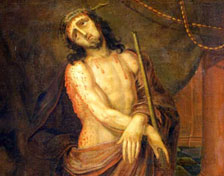 John Valentine Haidt, Christ Scourged, 1758, Moravian Digital History Project.
The Bethlehem Digital History Project consists mainly of documents, graphics, and interpretive essays organized in eight sections, each of which is clearly linked on the attractive home page. Designers "attempted to take into consideration the capabilities of all viewers," so the site may be easily browsed with a 56K modem connection. Even the jpeg images of Moravian paintings download with only a brief wait.
Each section's documents are well chosen to provide visitors a sampling of life in eighteenth- and nineteenth-century Moravian Bethlehem. German-language selections are provided in translation, with a digitized reproduction of the original available for interested viewers. For instance, clicking an entry date on the "Bethlehem Diary" page takes the viewer to a translated page from the settlement's communal diary. The translated page contains another link to a clear jpeg image of the original. Each selection also contains a brief introduction providing the background needed to understand the document. A selection of Bethlehem ledgers from 1747 to 1765, for instance, includes a virtual tour through several jpeg images of the 1762 account book, each with superimposed editor's notes explaining key features.
The Bethlehem Digital History Project functions as a selective archive of materials and an introduction to "the vast resources available at various institutions in Bethlehem." Most sections provide a rich sampling of life in early Bethlehem, but a few may leave even the casual visitor wanting more. The art section, while limited, contains a selection of good-quality images of architectural drawings, full-color paintings, landscape drawings, and full-color needlework. The collection offers a sample of what eighteenth-century Bethlehem looked like, and the five religious paintings help viewers understand why iconoclastic Presbyterians and Quakers might have suspected Moravians of papism. The two links in the music section, by contrast, are disappointing. One leads to a brief exhibit on various instruments used at Bethlehem and the second to abstracts of papers given at the past three music conferences held at Moravian College. The early Moravians' love of music—so central that the various communal groups at Bethlehem were organized by "choirs"—remains largely unexplained.
These reservations aside, the Bethlehem Digital History Project is valuable for specialists and casual viewers alike. The site is searchable with keyword and free-text entries. Readers of German script will appreciate the Scholars' Corner, which includes digital images of five significant German-language manuscripts. Genealogists and family historians will appreciate online access to registers of marriages, baptisms, and deaths. Those wishing to delve deeper into Moravian history can follow links to the project's partner sites. The site should facilitate further interest in a humble group whose contributions to early American life we are only just beginning to appreciate.
Timothy D. Hall
Central Michigan University
Mt. Pleasant, Michigan