Civil Rights in Mississippi Digital Archive
http://www.lib.usm.edu/~spcol/crda/
Created and maintained by the Special Collections Digital Lab, a division of University of Southern Mississippi Libraries, Hattiesburg, Miss.
Last site update June 8, 2001.
Reviewed Feb. 26, May 31, June 5, June 6, 2002.
The University of Southern Mississippi (USM) Libraries has embarked on a marvelous project that showcases how the modern black freedom struggle helped transform race relations in what was surely the most closed society in the South. USM's Civil Rights in Mississippi Digital Archive provides Internet access to valuable primary source material concerning efforts by African Americans and their white allies to end racial segregation and disfranchisement in the Magnolia State. This virtual archive holds sixty-six well-indexed transcriptions of oral history interviews, each introduced with a useful capsule biography. Appearing among them are accounts of local black leaders, including Fannie Lou Hamer, Unita Blackwell, C. C. Bryant, and Hollis Watkins, and staff members of the Student Non-Violent Coordinating Committee such as Charles Cobb and Lawrence Guyot who worked with them. Northern white volunteers who participated in the landmark 1964 Freedom Summer campaign provide recollections of their experiences as well. In contrast, the collection contains reminiscences of white segregationists who defended the status quo. The conversation with Grand Kleagle Edward L. McDaniel of the Ku Klux Klan offers a particularly fresh glimpse into the mind of a white supremacist. A handful of the interviews have audio excerpts, which require no special computer plug-ins, and listeners have the opportunity to hear the voices of Hamer, Watkins, Cobb, and McDaniel. Many more audio excerpts from a greater number of interviewees would be welcome.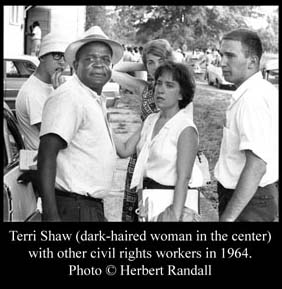 Besides oral histories, USM has digitized four manuscript collections related to Freedom Summer. The papers of Joseph and Nancy Ellin, Zoya Zeman, Terri Shaw, and Jinny Glass consist of letters, diaries, and personal accounts by these white northern volunteers. The letters of Nancy Ellin and the diary of Zoya Zeman furnish insightful comments on daily life during the tumultuous summer of 1964. Because those documents were composed by women, they can shed some light on female participation in social movements. Both oral history and manuscript collections can be easily investigated for specific subjects by using the search system provided in the digital archive. Furthermore, the archive provides links to other civil rights sites for handy cross-referencing. It also allows the user to search for names of individuals whose files are located in the records of the controversial Mississippi Sovereignty Commission but are not yet online.
The USM archive is a work in progress. It catalogs other civil rights manuscripts housed in the USM Libraries but provides only an inventory list of them. The Victoria Gray Adams Papers are not readable, and one hopes that the manuscripts of this important black leader will receive high priority for digitization. A similar argument can be made for placing onto the Web site other relevant collections located at USM, including those of Vernon Dahmer, Will Campbell, the Southern Regional Office of the American Civil Liberties Union, and Earle E. Johnston Jr. In addition, the archive promises to furnish some two hundred photographs, though most have yet to appear. One wants even more from this terrific project because it delivers vital historical sources directly to students and teachers who would not have the time or money to explore them. Educationally, the closed society still needs some opening up.
Steven F. Lawson
Rutgers University
New Brunswick, New Jersey