The American Revolution and Its Era: Maps and Charts of North America and the West Indies, 1750–1789
http://memory.loc.gov/ammem/gmdhtml/armhtml/armhome.html
Created and maintained by the Library of Congress.
Reviewed Dec. 2009.
This Web site brings together many of the roughly two thousand maps in the Library of Congress's collection of revolutionary-era cartography, with plans to add additional maps monthly. (Nearly three decades ago, the set was described in Maps and Charts of North America and the West Indies, 1750–1789: A Guide to the Collections in the Library of Congress [1981], compiled by John R. Sellers and Patricia Molen van Ee.) In its present stage of construction the site is very useful, and it can be expected to become more so as additional maps are brought online. It provides prime material for scholars, graduate students, and undergraduate majors, and a link connects it to a resource page for teachers.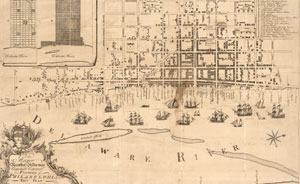 "Plan of the improved part of the city surveyed
and laid down by the late Nicholas Scull, Esqr." (1762)
Navigating The American Revolution and Its Era is relatively easy. Searches are possible by creator, geographical region, keyword, subject, and title. Once a map is located, users can open a two-pane window that enables zooming in to very close detail. After only a few moments of experimentation it becomes clear how to find maps and examine them closely.
Where the Library of Congress has multiple iterations of a certain map, all the variants are online, allowing for comparison. For instance, there are multiple versions of Claude Joseph Sauthier's monumental and highly informative A Chorographical Map of the Province of New-York in North America . . . Engraved and Published by William Faden. I have repeatedly used the monochrome 1779 London imprint but now have access to full-color versions from both London and Augsburg, and the color makes a significant difference. Search results displayed as a gallery of large thumbnail images make choosing among different versions easy. A military historian might be equally delighted to find such sources as the five detailed maps of the positions taken by British general John Burgoyne's army at the battle of Saratoga in 1777.
The online collection is limited by the Library of Congress's holdings. Given the high quality of reproduction on site and the relative ease of detailed searching, I found myself regretting that maps from other sites do not necessarily come with the same tools. But it has not been long since using historical maps in class meant blurry transparencies and conducting map research meant working with fragile paper copies. The collection has many rare treasures; one is a map in George Washington's hand of one of the farms that made up Mount Vernon.
The site's one drawback is its mode of indexing. I found the Sauthier maps easily with a creator search. But I came upon the Saratoga battle maps by happenstance, and I had trouble finding them again. The index is almost useless for finding Native American communities during the period, a subject of strong historical interest to historians of late colonial America and of the Revolutionary War. That may be a function of the categories found in Sellers and Molen van Ee's thirty-year-old catalog. An updated indexing system would help, since many of the maps in the collection show how native and white/African colonial communities abutted and sometimes intermingled.
Those quibbles aside, this is a site that anybody who is seriously interested in the revolutionary era will want to explore. I will be returning to it often.
Edward Countryman
Southern Methodist University
Dallas, Texas