America at Work, America at Leisure: Motion Pictures from 1894–1915
http://memory.loc.gov/ammem/awlhtml/awlhome.html
Created and maintained by the Motion Picture, Broadcasting and Recorded Sound Division, Library of Congress, Washington, D.C.
Reviewed Jan. 2007.
This Web site combines electronic essays and an archive of motion pictures that take as their subject American experiences of work, school, and leisure from 1894 to 1915. Each of those three areas includes a brief essay that contextualizes and historicizes the diverse films it contains, along with a list of film titles organized topically. Although their subjects are mundane, these films make a significant collective impact as they begin to reconstruct a visual landscape of everyday life at the turn of the last century. Because the bulk of these films are products of the medium's first decade, they have much to offer both students of history and students of film.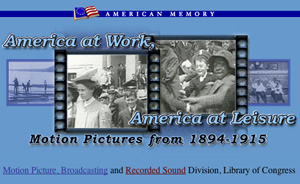 The archive contains 150 motion pictures from several different Library of Congress collections, more than half of which have been digitized for the first time for this exhibit. Clicking on the "America at Work" link brings the user to a brief essay on the development of urban industrialism, working conditions, labor policies, and progressive reform, with links to films listed under topical headings such as "Industrial and Manufacturing Work," "Fish Markets," "Refuse Disposal," "Logging," and the "United States Postal Office." Industrial work tends to dominate the collection, but films such as Logging in Maine (1906) and Cattle Leaving the Corral (1898) work to balance the urban industrial emphasis and remind students of the vast regional differences that still existed at the turn of the twentieth century.
The link to "America at School" brings users to a short essay that touches on the progressive influence on education, the deprivations of African American children, and the creation of schools aimed at assimilating American Indians. This section, by far the smallest, with only eight films, is in some ways the most compelling, providing a wealth of information on material culture—such as the kinds of clothing people wore and what sports children played. Lathrop School, Calisthenics (1904) depicts children in rows in front of a blackboard doing synchronized exercises that evoke Frederick Taylor's efficiency principles for the workplace.
"America at Leisure" explains how changes in the workday made leisure an integral part of the work experience. The section includes films about specific sports, such as hockey, boxing, swimming, and egg-rolling(!), as well as films of the major expositions of the period, which, like the fairs themselves, attempt to showcase American technology and industrial might.
The site is user-friendly. In addition to accessing the films through the presentation, the home page also allows users to search for films by keyword, browse titles alphabetically, or consult a subject index. Most films are viewable either in RealMedia format, Moving Picture Experts Group (MPEG) format, or QuickTime format, with the MPEG offering the best resolution and largest frame (though still quite small, around 3 by 2 inches).
This Web site/archive is a powerful resource for any instructor seeking to make the past come alive. It is a particularly powerful tool for those interested in social and cultural history, offering a glimpse of the past, in David Lowenthal's words, as "a foreign country." Students of early cinema will also find this a valuable resource, as many of the films were previously inaccessible to researchers, even in nondigitized form.
Alison Landsberg
George Mason University
Fairfax, Virginia