Museum of the City of New York: Byron Company Collection On Line
http://museumofnyc.doetech.net/voyager.cfm
Created and maintained by Museum of the City of New York.
Reviewed May-July 2009.
This collection of photographs is an archival site of digital images and descriptive information about individual works in the Byron Collection; it "consists of over 22,000 photographs of New York City and its environs taken by the Byron Company between 1890 and 1942."
The home page offers visitors two choices in addition to a general search: one can click on "Selected Topics" and access a sampling of images from the collection or one can click on "Search" and start investigating the database using pull-down menus. In the first, samples are offered in the following categories: bicycle(s), blizzard of 1899, Coney Island, Delmonico's, ice skating, Lower East Side, Lower Manhattan, Lyceum Theater, Roosevelt Hospital, ship(s). The categories appear somewhat random. Some are neighborhoods, some institutions, and some events.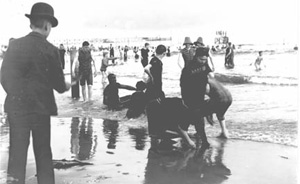 "Coney Island," 1896. Silver gelatin.
If one clicks on a category the screen displays ten of twenty to thirty items. On the left is the image and on the right is information about the image, headed by a highlighted descriptive title. Underneath is an archival number, photographic process used (i.e., silver gelatin), and, occasionally, additional information. One can click on the image to enlarge it. Clicking on the title brings up the complete record including description, date, subject terms, medium, and other details. All images are protected by copyright and are not downloadable. One may e-mail the curator for information about licensing the images.
Generally, the text is clear although it can occasionally be confusing. For example, image number 93.1.1.17828 has the heading "Coney Island Boardwalk, in front of Childs, 1897," but the note beneath it states: "Based on other similar photographs, this view actually shows the Boardwalk at Atlantic City. Note especially the presence of Green's Hotel, a lodging in Atlantic City." Personally, I do not see Green's Hotel in the image.
Many of the photographs are terrific, such as those of the Street of Cairo and Turkish Harem attractions in Coney Island. The Lower East Side sampling has a nice variety of late nineteenth-century images of Mulberry Bend and Hester Street.
Clicking on the "Search" option takes one to the Byron Collection Custom Search Wizard. One can search by accession number, date, subject, or medium with this simple, elegant search engine. The date search engine allows one to search either a date range in a pull-down menu or by early date/late date. Searching by subject allows one to pick one's own terms.
Most crucially lacking from the site is information about the Byron Company. What was it? Who were its photographers? Why were they documenting New York City in the late nineteenth and early twentieth centuries? Some of the images, especially of working and poor people, beg for more context. Some of the images are romantic; most are in a Riisian tradition of documenting tenement life. Context would be useful to scholars and teachers alike.
Suzanne Wasserman
Gotham Center for New York City History,
Graduate Center,
City University of New York
New York, New York