Regional Oral History Office
http://bancroft. berkeley.edu/ROHO
Created and maintained by Laura Gonzalez for the Regional Oral History Office, in cooperation with the On-line Archive of California.
Reviewed May 21–July 4, 2002.
The Regional Oral History Office (ROHO) at the Bancroft Library, University of California, Berkeley, is among the premier archival oral history programs in the United States. Founded in 1954, its collections include approximately two thousand interviews on topics broadly related to the history of the San Francisco region, California, and the western United States. More than one hundred new interviews are added annually.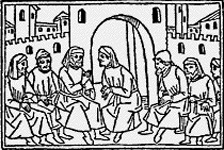 ROHO's Web site simultaneously serves as an introduction to the office and to oral history, a finding aid to the collection, and an online archive of selected interviews. While the site's resources, including a surprisingly helpful "One-Minute Guide to Oral History," can be useful to oral history novices, most historians will find its latter two functions particularly valuable. Information about ROHO's holdings is presented in two ways: A topical Subjects Area list provides a quick overview of forty-seven interview series with links to lists of individual interviews within each series. The published two-volume ROHO Catalogue, reproduced in its entirety on the Web site and also organized topically, has lengthier summaries of the contents of individual interviews or of projects encompassing several interviews on a single subject. The catalog has been reformatted to accommodate Web browsing: presented on a split screen, topical headings run along the left side, individual entries along the right.
While online access to those finding aids is clearly a boon to researchers, most valuable are the full transcripts of almost two hundred of ROHO's interviews, with sizable collections on the disability rights and independent living movement, Supreme Court chief justice Earl Warren's years as governor of California, and the woman suffrage movement, including an interview with Alice Paul. Hyperlinks provide access to numerous other interview collections. ROHO's interviews are generally of high quality. Interviewers are knowledgeable and well prepared; narrators typically review transcripts for accuracy and completeness; these are then lightly edited for publication to accommodate the conventions of the written word. Like most oral history interviews, these—or at least the several I reviewed—are biographical narratives, replete with anecdotes and personal vignettes. Though they are framed by broad historical questions pertinent to the topic at hand, the researcher must make the connection between biography and history. The interviews are also framed by the cordial relationship interviewers typically seek to establish with narrators: while rapport encourages a fuller narrative, it can also obviate a critical edge.
The site, online catalog, and interview transcripts are all searchable, though it is not immediately clear that the searches are not congruent; each provides access only to a portion of the material online. In addition, ROHO's Web site is included within the Online Archive of California (OAC), which provides electronic access to finding aids and archival collections throughout the state. While OAC has enormous potential for linking ROHO's interviews to additional archival material on a given subject, currently it seems as if only interviews related to the history of the University of California, including the free speech movement, are so linked. Moreover, the site itself does not orient users to those potential linkages—making them is something of a hunt-and-peck process. Despite those shortcomings, historians are well served by ROHO's Web site. We can only look forward to the office's continuing efforts to place additional interview transcripts on line.
Linda Shopes
Pennsylvania Historical
and Museum Commission
Harrisburg, Pennsylvania