Spy Letters of the American Revolution
http://www2.si.umich.edu//spies/
Kate Foster, Cynthia Ghering, Michelle Light, and Melissa McCollum; maintained by the Clements Library, University of Michigan
Reviewed March 2008
This Web site was created "to showcase the [twelve] spy letters of the Sir Henry Clinton Collection and to situate them in an educational framework." By tying together a number of elements, the site is very useful for classroom instruction and for undergraduate research projects. Moreover, scholars and Revolutionary War buffs interested in cryptography, the Culper Gang spy ring, and letters from particular spies such as Benjamin Thompson, Benedict Arnold, Ann Bates, and "Miss Jenny" will find this site helpful.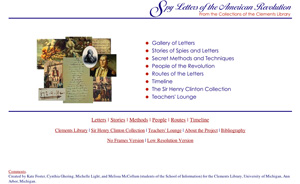 On this user-friendly site visitors can access the letters as a group or singly and can view them in their original and printed versions. Biographical sketches of the authors, recipients, and persons mentioned in them enhance their instructional value. The "Stories" section describes each letter and places it in a chronology of major events, 1763—1783, adding historical context. The site includes a schematic map of the paths taken by spies and the methods used by spies to conceal and code their letters, such as a "mask," which, when laid over a coded message, would reveal a secret communication in an innocuous letter. There is also a bibliography.
In the "Teachers' Lounge" section, instructors will find helpful tools. There are classroom activities such as the recipe to make invisible ink and ways to make a secret code. Lesson plans include links to various images, such as Paul Revere's engraving of the Boston Massacre, to discuss how partisans portrayed events and the role of propaganda in shaping public opinion. There are activities to teach students the difference between primary and secondary sources, how to analyze the former, and suggestions for making archival material an integral part of classroom instruction. Although the "Teachers' Lounge" specifically targets K—12 educators, college faculty teaching courses on research methodology will find parts useful.
The content of the letters, coupled with the biographical and contextual descriptions, is both fascinating and illustrative of the intrigue, drama, and significance of spying during the Revolution. The John André and Arnold letters are especially interesting because they tell the story of Arnold's epic betrayal more vividly than do secondary accounts. The numerical code of the July 12, 1790, letter from Arnold to André creates the feel of conspiracy, and the original handwritten decoded letter reeks with treason. Arnold tells of the movements of French forces and of George Washington's troops; plans to attack New York City; and implies that he will turn West Point over the British after he assumes command of that post. He reminds André and General Clinton of the dangers he faces and that his request for money and "emoluments" is reasonable. Arnold also confesses his belief that the cause for independence is lost: "The present Struggles are like the pangs of dying man, violent but of a short duration."
Classroom reading and discussion of these letters, combined with other features of the site, will add drama and insights to the study of Revolution. They can also be used to discuss the broader issues of the gathering, reliability, and use of intelligence in war, then and now.
John Resch
University of New Hampshire
Manchester, New Hampshire