New York Times Daily Lesson Plan and Archive
by New York Times and Bank Street College of Education
---
New York Times Daily Lesson Plan and Daily Lesson Plan Archive
http://www.nytimes.com/learning/teachers/lessons/index.html
.
Created and maintained by the
New York Times
in partnership with the Bank Street College of Education in New York City.
Reviewed July 5–15, 2001.
The
New York Times Daily Lesson Plan
site, along with its accompanying archive of lesson plans, is an excellent resource for teachers using the Internet in their classes in grades 6–12.
The site aims to bring today's news into the history classroom by focusing on one current headline-making story, requiring students to familiarize themselves thoroughly with the details and issues involved with that story, and then providing links back to historical precedents related to that story. These lesson plans can be used "as is," or the teacher can modify them to suit different learning objectives and styles. Teachers at the college level will find the site useful, as well, by customizing, enhancing, and enriching the lessons as written with assignments and/or projects that will challenge the college student. The site is well organized and easy to navigate. Every day's lesson plan is thorough and comprehensive in design.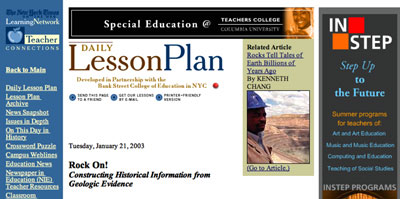 A recent unit in American history (July 2, 2001) reexamined the battle of Little Big Horn and "the role that this event played in American history." Students were challenged to think about contemporary coverage of a significant event versus how we consider that coverage and event today, from Indian and white points of view. The lesson plan provided links to the article in the Times of July 6, 1876, which originally reported the battle, and to a current article, in which a modern journalist, Allen Barra, asked "why a fight that was scarcely more than a dusty provincial skirmish compared with Antietam and Gettysburg has had such a powerful grip on the American imagination."
The lesson plan on Little Big Horn is just one example of one unit at this site. Teachers will want to look into the archive for other excellent lesson plans on a wide variety of subjects and themes. Other subjects covered recently include civil rights, what makes an event historically significant, capital punishment, thinking about the Vietnam War, the history of slavery, how music reflects culture, autobiographical writing, the impact of religion on politics, gun ownership and rights, the reliability of history textbooks, the history of the Electoral College, the role of gender in politics, divisive issues in American history, and immigration.
The material on civil rights is especially strong, and the researcher will easily find excellent online scholarship at other Web sites with a click or two of the mouse. The range, depth, and reliability of coverage is usually of high quality; students are led to think hard about sticky subjects by questions that grow increasingly complex, and they are encouraged to look further and deeper afield with the help of references and links to other resources that are online at the Times's web site, online elsewhere, and in print. There is good history to be had here, packaged in a form that is informative to students and useful to teachers. It is easy (and free) to subscribe to the daily lesson plan so that it will arrive in your email five days a week, at <http://www.nytimes.com/learning/teachers/lessons/subscribe.html>.

Arnold Pulda
Doherty Memorial High School
Worcester, Massachusetts