Hands across the water.
Women's suffrage activists used a variety of tactics during World War I to advance their cause. While the more conservative North American Woman Suffrage Association energetically supported the war by knitting socks, selling war bonds, and preparing Red Cross supplies, members of the more militant National Women's Party were arrested for picketing the White House. During a July, 1917, visit from representatives of the new Russian government, demonstrators in front of the White House appealed to the envoys to support suffrage for American women as a condition for Russia's remaining in the Allied camp. The banner roused the ire of patriotic passersby, and soon after this photograph was taken an angry crowd attacked the suffragists.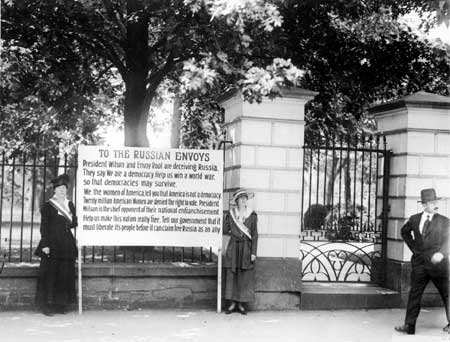 ---
Source: Harris and Ewing, 1917—National Archives.