After the execution.
The climate of repression established in the name of wartime security during World War I continued after the war as the U.S. government persecuted communists, Bolsheviks, and "reds." Caught up in this "Red Scare," Nicola Sacco and Bartolomeo Vanzetti were arrested on May 5, 1920, and charged with killing two men during an armed robbery. The two were anarchists, and while maintaining their innocence, insisted that they were being prosecuted for their political beliefs. After a trial marred by questionable evidence and judicial procedures, Sacco and Vanzetti were convicted and sentenced to death. For a broad spectrum of people around the world, Sacco and Vanzetti's case came to symbolize government injustice. Crowds gathered around the world to protest on August 23, 1927, when the two were executed, and thousands of mourners followed behind their funeral carriages, as shown in this photograph.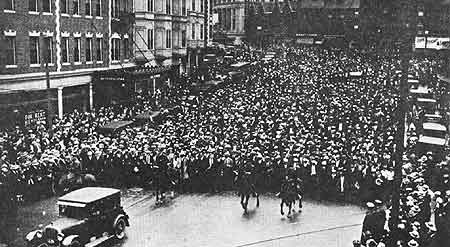 ---
Source: Labor Defender, August 1928—American Social History Project.