Welfare capitalism and its conceits.
A 1929 installment of J. R. Williams's popular comic strip Out Our Way poked fun at the illusions held by some of the workers who bought stocks in the companies that employed them. High wages, good benefits, and employee welfare programs became means for large employers to maintain stable labor relations. Besides stock-purchase plans, some companies offered pensions, subsidized housing and mortgages, insurance, and sports programs. In many cases, these employee welfare programs were distributed through "company unions," created to keep out worker-controlled unions and build employee loyalty.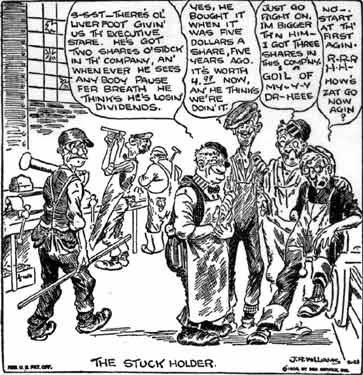 ---
Source: J. R. Williams, Labor Age, March 1929—American Social History Project.