"Starting for Lowell."
During the 1820s, large scale production of fabric centered in New England. Perhaps the best known of such cotton mill towns was Lowell, Massachusetts. The Lowell mills mechanized each stage of cloth production, and most mill workers were young, single women from rural New England families struggling to make ends meet. This illustration from T. S. Arthur's reform tract Illustrated Temperance Tales (1850) presented a young woman leaving her farm family to work in a cotton mill. This picture was accurate in showing that New England farm families often had to rely on income from factory labor. But reformers blamed economic hardship on personal weaknesses—in the case of Arthur's story, the father's alcoholism.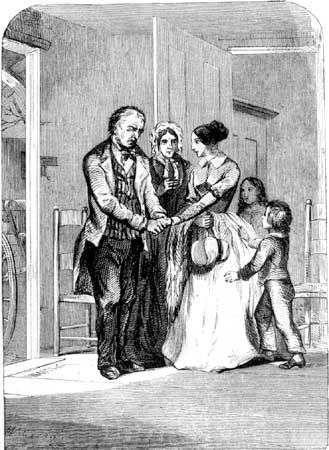 ---
Source: Timothy Shay Arthur, "The Factory Girl," Illustrated Temperance Tales (1850)—American Social History Project.