William Walker's "Filibusters" relax after the Battle of Granada.
Slaveholders went to great extremes to expand slavery, turning to Mexico, western territories, and even Central America. Supported by fifty-eight mercenaries, the Tennessee-born William Walker "invaded" Nicaragua in May 1855. Within six months he succeeded in exploiting civil unrest in the country and declared himself president. Walker's government, which opened the country to slavery, was recognized by the United States in 1856. But he was overthrown a year later by forces financed by his former sponsor, the railroad entrepreneur Cornelius Vanderbilt.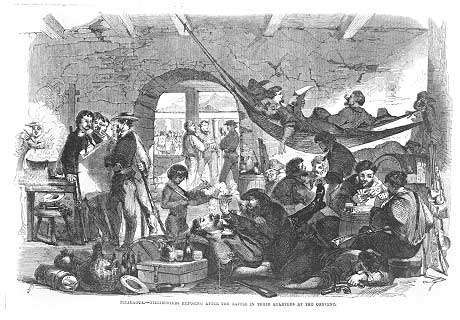 ---
Source: J. W. Orr, Frank Leslie's Illustrated Newspaper, May 3, 1856—American Social History Project.