Holocaust or no holocaust, a woman's place is in . . .
This illustration from the widely-circulated 1950 book How to Survive an Atomic Bomb, which designated "appropriate" civil-defense jobs for men and women, reflected the contemporary labor market. While more women worked outside the home, they were largely confined to a female job ghetto, where wages were low, and prestige and opportunities for career advancement limited. Their subordination in the labor market coincided with a new postwar sexual ideology marked by rigidly defined gender roles that emphasized women's submissiveness and confinement to housework.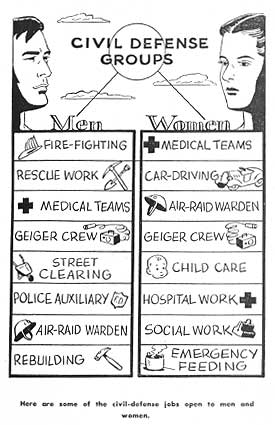 ---
Source: Richard Gestell, How to Survive an Atomic Bomb (1950)—American Social History Project.