Jacob Lawrence: Over the Line
http://www.phillipscollection.org/research/over_the_line/index.html
Created by Ruth R. Perlin and Swim Design Consultants. Maintained by the Phillips Collection, Washington, D.C.
Reviewed Oct. 12—30, 2006.
Jacob Lawrence: Exploring Stories
http://whitney.org/www/jacoblawrence/
Whitney Museum of American Art, New York, N.Y.
Reviewed Oct. 12—30, 2006.
Both of these Web sites were created in 2001 to accompany exhibitions exploring the life and work of the African American painter Jacob Lawrence. The Phillips Collection's Jacob Lawrence: Over the Line employs Flash software and a slick design to create an animated and visually arresting presentation of Lawrence's life and work. However, for all of its visual appeal, the site in substance departs little from traditional media: it is linear in design, thin in content, and isolated from the broader World Wide Web. The Whitney Museum of American Art's Jacob Lawrence: Exploring Stories is a simpler site that covers much of the same ground, but it offers more paths for exploration and links to external sites to provide context. Both sites appear static, unchanged in the years since their creation; consequently, some external links on the Whitney Museum site are dated or broken. Such sites have the merit of extending the life of exhibitions and making a selection of their contents available to an audience unable to see them in person. But that is all they do—and to be fair, all they seek to do—limiting them to being reference sites for an audience seeking very general information and a glimpse of artworks.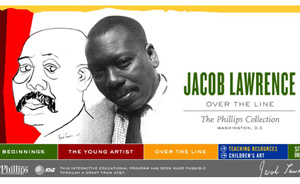 The Phillips Collection's Jacob Lawrence: Over the Line is available in two forms, a Flash site and a hypertext markup language (html) site. The html site is very much the poor cousin, included perhaps because the exhibition dates from an era of slow dial-up connections, so I will focus on the Flash version. It gives a straightforward account of Lawrence's life and work, offering general statements on his subject matter and style, accompanied by images. No advantage is taken of the diverse opportunities new media offer to enrich the association between text and image: there is no direct analysis linking the examples to the general points being made and no enhancement of the images to highlight and explain specific elements. In addition, the photographs intended to suggest the nature of 1930s Harlem, rich as they are, are not always appropriate: Berenice Abbott's image of a storefront church illustrates a statement about the religiosity of Lawrence's mother, when, in fact, according to an interview with Lawrence in the Smithsonian Archives of American Art, she attended the Abyssinian Baptist Church, the largest and most influential of Harlem's mainline congregations and the very antithesis of the institution portrayed in Abbott's photograph (Jacob Lawrence interview by Carroll Greene, Oct. 26, 1968, Archives of American Art, http://www.aaa.si.edu/collections/oralhistories/transcripts/lawren68.htm). At no point does the site raise issues of interpretation or different perspectives on Lawrence's life and work. The result is something more than an encyclopedia entry, but less than an analysis.
The site is presented in three parts, each organized as a sequence of pages consisting of short snippets of text and associated images. Some of the pages are very effectively designed; I particularly liked the page on which Lawrence's paintings of Harlem life were superimposed at appropriate points on a photograph of a 1930s Harlem street. Unfortunately, the images of Lawrence's work are relatively small and cannot be enlarged, making it difficult to explore their details. The site mixes media by including two short audio clips in addition to the text and images. However, at its core Jacob Lawrence: Over the Line remains a digital exhibition with captions.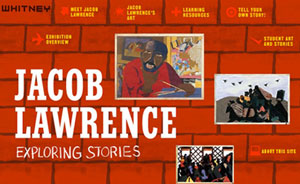 The Whitney Museum's Jacob Lawrence: Exploring Stories extends further beyond the exhibition than does the Phillips Collection site and caters more directly and extensively to a K-12 audience. This site draws a sharper distinction between Lawrence's life and work, which are treated in separate sections. His life is divided into several chronological pages, while his work is presented through a selection of paintings representing themes in Lawrence's art, together with separate pages on the migration series and his painting method. Each page includes links to online contextual information, mostly biographical details. Those links could add depth to the site, but unfortunately, since the site has not been updated, many are broken or out of date. The biographies usefully go through an intermediate page providing brief information, a device that could have been employed for all the links to better integrate them into the site. Such a design would have also allowed the creators of external pages to be identified and their reliability established. As it is, the user is often plunged into the midst of a site with no indication of its author. The pages on individual paintings attend to each work's content and style in a more directed and detailed way than is done on the Phillips Collection site, and mouse-over links are used to highlight particular elements and the composition of each image and to pose questions. So while this site, like Jacob Lawrence: Over the Line, does not make room for different interpretations of the artist's life and work, by posing questions it at least indicates a space for interpretation and critical thinking. Those discussion points, however, are fairly straightforward, in keeping with the K-12 students who are the site's primary audience.
Jacob Lawrence: Exploring Stories is a less linear site, offering more entry points into the artist's biography and presenting his art in a series of images, allowing the user to be more active. It also employs a clean design, although the bright red links and accompanying symbols—perhaps intended to appeal to children—are a distraction. Simple mouse-over links encourage attention to the details of the paintings, which can also be seen in a larger size than offered by the Phillips Collection site, although there is no ability to zoom in on the canvas. In the final analysis, those features are only minor enhancements of the "reading" experience, not something that could only be done in new media.
In sum, these sites are useful sources for quick reference. In addition, Jacob Lawrence: Exploring Stories offers helpful resources and questions for K-12 students and teachers, unfortunately marred by static, and increasingly out-of-date, links to additional information.
Stephen Robertson
University of Sydney
Sydney, Australia