American Transcendentalism Web
http://www.vcu.edu/engweb/transcendentalism
Created and maintained by Ann Woodlief, Virginia Commonwealth University, Richmond.
Reviewed Sept. 2008.
American Transcendentalism Web was created in Spring 1999 by students in a graduate class of Ann Woodlief and is described as "a work in progress." The Web site has six sections, plus some miscellaneous materials on its home page. "Authors and Texts" covers eleven first-rank authors plus sixteen minor ones, links biographical materials (including sketches written especially for the site) and electronic texts, and provides brief bibliographies of editions, biographies, and criticism. Other sections present short essays, bibliographical references, and external links for "Roots and Influences," "Ideas and Thought," "Criticism," and "Resources and Bibliographies." The "Communication Center" links to open-submission annotated Ralph Waldo Emerson texts (however, all of those links generated an error message) and invites further contributions to the site.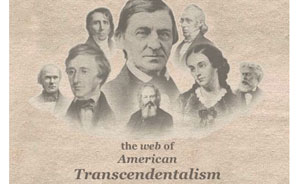 This is a text-driven site with hyperlinks to sites that provide additional information, primarily biographical sketches and texts. The only images are those of authors. A number of Emerson's writings—most notably Nature (1836)—are presented with links to windows that explain words and concepts. There is an audio clip on the structure of Walden by Woodlief, but no video.
The biographical material prepared for the site by Woodlief (an emerita professor of English) and others is solid, and the links to texts generally good. However, the bibliographies are uneven in quality and lack up-to-date coverage: for Emerson, only two works published after 2000 are listed; the listing of materials by and about other authors is erratic; and the bibliography on Transcendentalism fails to include anything published after the late 1990s. There are many outdated links.
When this site began, it and Paul Reuben's site, PAL: Perspectives in American Literature—A Research and Reference Guide, offered the only detailed coverage of Transcendentalism. With so many other options to choose from now, it is unfortunate that the American Transcendentalism Web has not kept up with the field. It retains many of its early advantages: it is easy to navigate; the divisions are clearly stated; the structure is logical; and the original materials are accurate and useful. However, there is often great variation between entries regarding how information is presented and inconsistency within entries regarding what is included and why. It is unclear for what audience the site is aiming: its origins as a student-oriented project suggest a pedagogical role, which is indeed filled by some of the pop-up windows annotating and explaining texts, but the scholarly portion of the site—the bibliographies and external links to authors' texts—has a catch-all feeling rather than a sense of overall organization and integration.
Transcendentalism is arguably the most important American literary movement of the nineteenth century, and the resources for studying it have grown significantly since this site was established. The site remains useful as a biographical and textual resource (perhaps the best example being the texts for numerous selections from the Dial by Emerson, Margaret Fuller, Henry David Thoreau, and others), but those interested in more up-to-date listings of writings by and about the Transcendentalists should consult other sources.
Joel Myerson, Emeritus
University of South Carolina
Columbia, South Carolina