Feeding America: The Historic American Cookbook Project
http://digital.lib.msu.edu/projects/cookbooks/
Created and maintained by the Michigan State University Library.
Reviewed Jan.-March 2012.
In recent years historians have discovered that cookbooks can be rich documents that offer clues not only about what people cooked but also about markets, nutritional ideologies, class and race relations, regional and ethnic cultural differences, immigration, technological change, social movements, ecology, politics, and religion. Feeding America: The Historic American Cookbook Project is an excellent Web site for those seeking to incorporate these sources into their scholarship and teaching. Sponsored by the Michigan State University Library, this site provides access to a select group of seventy-six cookbooks chosen for their significance in representing key themes of American history. The site's mix of important primary documents and interpretation makes it useful for students, food-history enthusiasts, and scholars.
The collection includes classics such as Amelia Simmons's American Cookery (1798), considered America's first cookbook, and also unusual volumes such as the butcher Thomas Farrington De Voe's Market Assistant (1867), which provides an incredible glimpse into New York City's nineteenth-century markets. Cookbooks by African American authors, cookbooks created by charities, and several volumes representing ethnic and religious communities are also featured.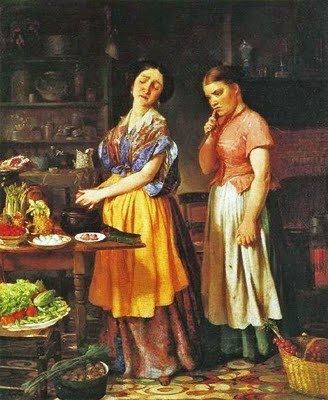 Lilly Martin Spencer (American artist, 1822–1902), The Young Wife First Stew
An introductory essay by the veteran culinary historian and curator of American Culinary History at the neighboring University of Michigan's William L. Clements Library, Jan Longone, offers helpful background for understanding the historic role of cookbooks in American society and provides specific suggestions for how the volumes might be used in research. In addition, for each cookbook, the site provides a short introductory essay on the book's author, what makes it distinctive, and its historical context. There are also biographic essays for many authors.
Visitors can browse the entire collection by title, author, time period, and theme (such as social issues or ethnic influences), or they can search by author, title, ingredients, and recipes. The digital archive includes page images and searchable full-text transcriptions, which means that in each volume, scholars can look for specific words, or even expressions, in a manner that is far more efficient than paging through archival materials.
Visitors will also find a helpful glossary that explains archaic food terms—such as frumenty (boiled wheat) and codlin (apples)—and a photo exhibit of historical kitchen implements from the Michigan State University Museum that shows what old-fashioned gadgets, such as piggins (dippers) and spiders (legged pans), look like.
For all its strengths, Feeding America now feels a bit outdated. Shortcomings include a video with poor resolution, conspicuous typographical errors, broken links to external sources, and a limited keyword search capacity across the entire site. When first published, the site offered pioneering access to rare archival volumes that were otherwise difficult to view; but with the explosion of digitized books over the past five years, one can now find many of the same books via Internet Archive or Google Books with an easier read-and-search interface and higher-resolution scanning.
Nevertheless, the well-curated mix of primary documents and pertinent, proximate background materials on Feeding America makes it an excellent site well worth visiting and revisiting.
Ann Vileisis
Port Orford, Oregon