The Gilder Lehrman Center for the Study of Slavery, Resistance, and Abolition
http://www.yale.edu/glc/index.htm
Created and maintained by the Gilder Lehrman Center for the Study of Slavery, Resistance, and Abolition at the MacMillan Center, Yale University.
Reviewed June 2010.
Directed by the eminent scholar David Blight, Yale University's Gilder Lehrman Center for the Study of Slavery, Resistance, and Abolition is a lively place. Its industrious staff sponsors new scholarship, organizes conferences and lectures, awards the Frederick Douglass Book Prize, compiles an annual bibliography, runs Teaching American History grants for local teachers, and creates historical resources on the World Wide Web for scholars, teachers, and students. I will focus on the last of these for the purposes of this review. The center's online "content" is an e-cabinet of curiosities with some excellent material, but you have to poke around for it.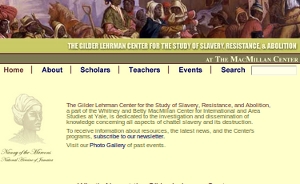 In the section titled "Scholars," of particular note is a document library and an annotated list of more than thirty Web sites devoted to slavery and abolition. The list is a testament to the wealth of information and sources now available online; the sites contain wonderful resources for teaching at any level. The center's own "Yale Slavery and Abolition Portal" provides links to Yale's rich archival and library collections pertaining to the study of slavery and abolition, including finding aids to important manuscripts such as the Beecher Family Papers. The next step would be to digitize some of these materials and make them accessible to the public via the Web, but in the meantime, as other universities plumb their own relationships to the history of slavery, more should follow the center's example and create similar portals highlighting relevant archives.
The center's "Document Library" contains more than two hundred textual and visual sources, from a 1661 suit in Massachusetts between two Irish servants and their master to a 2003 interview with a descendant of Harriet Tubman. Approximately fifty of the documents are speeches and letters by Frederick Douglass drawn from the Frederick Douglass Papers (1973), edited by the great Yale historian John Blassingame. Although the document library contains many interesting sources, the site does not provide sufficient annotation for each one to make them immediately useful to teachers and students. The collection is a hodgepodge, and sifting through the documents is time consuming. What exactly is the casual site troller supposed to make of an excerpt from John Poyer's 1808 History of Barbados? It is easy to miss Poyer's intriguing discussion of a slave conspiracy, so a little help from the site would be welcome.
The center's site also offers several online content modules that are quite well done. "Citizens ALL: African Americans in Connecticut, 1700–1850" uses local history to shed light on the dynamics of slavery and emancipation in the North. It combines video interviews with scholars, interpretive essays, and primary sources to tell moving stories about real people and place them in historical context. It also offers guidance for pursuing and discovering other local histories of slavery and freedom and making them available on the Web. We need more of these! In the section titled "Teachers" are several other online modules on topics ranging from Harriet Jacobs to South Carolina's Gullah culture. My favorite is a hypertext essay about Frederick Douglass's sojourn in Great Britain during the 1840s. The offshoot of an award-winning undergraduate thesis by Benjamin Soskis, it is a great example of how the Web can showcase fine student scholarship.
Adam Rothman
Georgetown University
Washington, D.C.