Whole Cloth: Discovering Science and Technology through American History
http://invention.smithsonian.org/centerpieces/whole_cloth/
Created and maintained by the Society for the History of Technology (SHOT) and the Jerome and Dorothy Lemelson Center for the Study of Invention and Innovation, National Museum of American History, Smithsonian Institution.
Reviewed Sept. 14–30, 2001.
This ambitious Web site seeks to provide interdisciplinary curriculum materials about the history of technology for middle and high school classrooms. Whole Cloth, as the name suggests, uses the history of American textile manufacture to weave together technological, social, and cultural change. The project hopes to increase students' understanding of technological innovation and, especially, to support learning experiences that attract women and all students of color to study science, math, and engineering.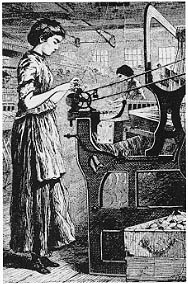 Winslow Homer, 1871.
Courtesy of Lowell National Historical Park, LowelI, MA.
The Whole Cloth Web site continues a curriculum development project of the same title begun in 1987 by SHOT, the Lemelson Center, and the Center for Children and Technology, with the support of a National Science Foundation grant. Working over two summers, a committed group of college instructors, museum professionals, and middle and high school teachers created eight modular units. The Whole Cloth Web site contains three of these units: "Early Industrialization," "True Colors," and "Synthetic Fibers."
Each unit in Whole Cloth provides a brief introduction, themes and objectives, essays for teachers and students, classroom activities, a timeline, a teachers' discussion forum, additional resources, and an index. Instructors may use the freestanding units as models for interdisciplinary courses or pull out germane sections to integrate into a traditional U.S. history course. I was especially impressed by the variety and creativity of the classroom activities, many of which encourage active learning through team projects and hands-on experiences. The site is easily navigated and, through judicious use of graphics, provides visual appeal and coherence without sacrificing loading speed. A few links lead to sites under construction, suggesting that the project is gaining the additional funds required to complete its online version.
I applaud Whole Cloth's commitment to women and all students of color, thus I eagerly browsed the site to discover how it engages those students. I was disappointed that the indices provide few keywords to help a user find sections of the Whole Cloth site that treat women or peoples of color. "Early Industrialization" contains a learning activity in which students read four different accounts of the innovation of the cotton gin. Exploring patents and profitability, students learn how history tends to overlook the contributions of women and African Americans. During the nineteenth century women innovators patented more inventions related to textiles and clothing than any other category and appear to have been largely overlooked by Whole Cloth. "True Colors" explores the technology of synthetic indigo but overlooks the history of the skilled African craftspeople and the entrepreneurial Eliza Lucas Pinckney who made indigo cultivation commercially successful in the New World. In the most substantial activity related to women, students investigate the shortage of nylon stockings during World War II by reading primary documents and conducting an oral history of a woman who lived during the period. I suspect many secondary school students would have a tough time finding a near-octogenarian female informant. Also, I fear students from recent immigrant groups (the majority of pupils in many schools) would find no women suitable to interview in their communities and would thus feel excluded from the activity.
The creators of Whole Cloth have produced an excellent model for an online instructional site, well designed for Internet users. As they continue to develop the site, I hope the Whole Cloth project will give additional thought to the needs of their diverse student users.
Nancy Page Fernandez
California State Polytechnic University
Pomona, California