The Chinese in California, 1850–1925
http://memory.loc.gov/ammem/award99/cubhtml/
Created and maintained by the University of California, Berkeley (Bancroft Library and Ethnic Studies Library), and the California Historical Society.
Reviewed April 1–15, 2005.
The Chinese in California, 1850–1925 is a trove of some eight thousand items that document the lives of Chinese Californians. The great strength of this collection is the wide range of visual materials; photographs, original art, cartoons, and other illustrations. Letters, excerpts from diaries, business records, and legal documents, as well as pamphlets, broadsides, speeches, sheet music, and other printed matter, round out the collection.
The Chinese in California is organized into nine themed galleries: Chinese and Westward Expansion; four on San Francisco's Chinatown (space and architecture, work and politics, "a world apart," and "strangers looking in"); Chinese communities outside of San Francisco; Agriculture, Fishing, and Related Industries; the Anti-Chinese Movement and Chinese Exclusion; and Sentiment concerning the Chinese, Illustrations from Periodicals. The collection is introduced by a historical narrative of Chinese immigration and settlement in California; each gallery is introduced by a shorter thematic headnote.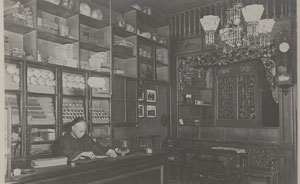 "Chinese Bakery," From San Francisco scenes:
photographs from Waters' Nickel series, ca. 1890s.
The introduction essays repeat a standard interpretation of Chinese American immigration history: flight from economic hardship, confronting racial hostility and exclusion, and contributions to American society. Unfortunately, there is no reference to debates or differing interpretations, making for a disappointingly flat narrative and providing little in the way of help for the novice in formulating interpretative questions to bring to the primary materials. While navigating the Web site is relatively easy, each thematic essay is linked to a gallery that can be viewed via thumbnails or an index. Unfortunately there are no connections from the texts to items in the archive, nor are there any explanatory notes to individual items or groups of them.
This is a selection of an immensely rich set of archives. The selection criteria are neither transparent nor explained, however. One is left wondering, for example, what accounts for 1925 as the ending date of the collection. While the archive is particularly rich with material from the Bancroft Library, less material seems to be drawn from the Asian American collection at the Ethnic Studies Library. This material might have strengthened the Chinese voice. For example, a search on Ng Poon Chew, a prominent Protestant minister, newspaper publisher, and Chautauqua speaker (advertised as "the Chinese Mark Twain") turns up only one pamphlet in English, while the Ethnic Studies Library holds several cartons and boxes of his publications and papers in both English and Chinese. Since there are no notes to the introductory essays or to individual items, it is not apparent that further material is available in the collection from which it has been drawn.
The Chinese in California will be immensely useful to the researcher who knows what to look for and what she is looking at and for the teacher looking for illustrative visual material or primary documents to use as supplementary reading. It will be more difficult for the student unversed in Chinese American history to make full use of this Web site as a primary research tool.
Robert G. Lee
Brown University
Providence, Rhode Island