The National Security Archive
http://www.gwu.edu/~nsarchiv/.
Created and maintained by the National Security Archive, Washington, D.C.
Reviewed June 26–27, July 7–9, 2003.
Digital National Security Archive
http://nsarchive.chadwyck.com.
Created and maintained by the National Security Archive, Washington, D.C.
Reviewed June 26–27, July 7–9, 2003.
Government records are essential to the study of U.S. national security policy, and the National Security Archive has done much to gain the release of documents from the State and Defense departments, the Central Intelligence Agency (CIA), the National Security Council, and other government agencies and to make them available for research. Founded in 1985 and located on the campus of George Washington University, the National Security Archive is a library with more than two million pages of declassified documents, the largest such collection in any nongovernmental repository. It is also a research institute that has published documents readers and other collections of government records in print, microfiche, and electronic formats. Finally, the archive is a public interest law firm that has used the Freedom of Information Act (FOIA) to secure the release of many of the documents it houses. The archive's two Web sites, although quite different, provide access to many collections of declassified records and information about the archive's role as advocate of public access to U.S. government documents.
The National Security Archive's home page consists mainly of headlines—more recent ones in larger type and with dates located at the center of the page, older stories in smaller type and without dates listed on the right. Clicking on these headlines takes you to either an "electronic briefing book" or a press release. The former consists of an article and set of documents about a subject in international or national security history. Many of these electronic briefing books deal with topics in the news, such as the Mexican elections of July 2003, the war with Iraq, or the North Korean nuclear program, and aim at providing historical context. Although not designed for classroom instruction, these electronic briefing books might be helpful in acquainting students with such things as the kinds of information that intelligence analysts use in making assessments of programs for the development of weapons of mass destruction in Iraq or North Korea.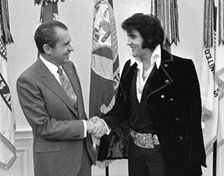 President Richard M. Nixon and Elvis Presley discuss the "anti-American spirit" of the Beatles.
The press releases on The National Security Archive site concern threats to foia, mainly as restrictions on the release of information tighten in the aftermath of the events of September 11, 2001, and the inconsistent and, at times, capricious application of existing rules about security classification. An article "Dubious Secrets" mentions a "Weekly Situation Report on International Terrorism" of December 17, 1974, which contains some seasonal humor about a terrorist threat to "the annual courier flight" of North Pole "Prime Minister and Chief Courier S. Claus." A CIA reviewer decided to release this information, originally designated secret, in 1997. Two years later, a second reviewer refused to declassify the same item.
The National Security Archive site also has one "online exhibit." It documents the unusual meeting in December 1970 between President Richard M. Nixon and Elvis Presley, the latter of whom wanted to be an at-large agent for the Bureau of Narcotics and Dangerous Drugs. Presley never got the position, despite his familiarity with drugs, but he did visit the Oval Office to discuss, among other subjects, his decade-long study of "Communist brainwashing." This amusing exhibit points up the potential—unfortunately underutilized—to use government records to interest nonspecialists in the documents on U.S. national security policy on this site.
The gated Digital National Security Archive contains online versions of twenty microfiche collections unavailable on the archive's other Web site. Several deal with U.S. policy toward specific nations, including Afghanistan, 1973–1990; China, 1960–1998; Iran, 1977– 1980; Nicaragua, 1978–1990; and South Africa, 1962–1989. Others document moments of danger in the Cold War, such as the Berlin crisis of 1958–1962 and the Cuban missile crisis. Still others concern topics in national security history, such as intelligence estimates of the Soviet Union and U.S. nuclear nonproliferation policy. Also included is a group of "Presidential Directives on National Security from Truman to Clinton." Each of these collections is substantial, with some containing more than two thousand documents that total over thirty thousand pages. Introductory essays discuss the sources of documents in each collection and its research value and limitations. Bibliographies accompany each collection, as do glossaries and chronologies. A few collections contain "photo archives," which include only a handful of photographs and appear to be afterthoughts. Researchers can search a single collection or any combination of the twenty collections by keyword, date, document type, classification, recipient, or creator. But the text of the documents themselves is not searchable by the word. Subscription prices can vary, but my institution, Ohio University, paid an annual licensing fee of $3,760 for access to the Digital National Security Archive in 2003.
Specialists in U.S. national security policy, both scholars and journalists, will find the research collections of the Digital National Security Archive quite valuable. But anybody interested in revelations of government secrets and the prospects for future releases of official documents can use these sites with profit.
Chester Pach
Ohio University
Athens, Ohio