The Presidential Elections, 1860–1912
http://elections.harpweek.com/default.asp
Created and maintained by HarpWeek.
Reviewed Oct. 2009.
Political cartoons can be both entertaining and educational. Herblock's caricatures of Richard Nixon during the Watergate Scandal still remain vivid to me. Perhaps as much as any media, Herblock's cartoons etched Nixon's responsibility for Watergate into historical consciousness. Maybe the cartoons of the 1860–1908 period had analogous impacts. Ulysses S. Grant thought that Thomas Nast's drawings for Harper's Weekly were pivotal in generating support for the Union cause during the Civil War. Nast's renderings of Tweed and his New York ring helped dethrone the Boss in the following decade.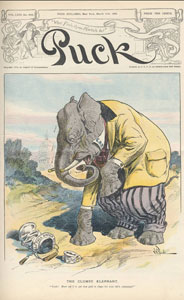 J. S. Pughe, "The Clumsy Elephant," Puck, March 11, 1908.
Presidential Elections 1860–1912 offers a collection of political cartoons for each presidential election during its coverage period, drawn primarily from Harper's Weekly, Puck, Judge, and Leslie's Illustrated Weekly. Most of the images appeared on the cover of these periodicals. Many of the Puck and Judge cartoons are in color. The site offers perhaps 60 or more cartoons for elections in the early twentieth century, with lesser numbers for earlier contests. The covers of Harper's Weekly from the Civil War through the election of 1884 are rich with Thomas Nast drawings. Unfortunately, the site does not provide a profile of Nast or any of the other artists whose work is displayed in the collection. The site does offer biographies of presidential and vice-presidential nominees and of presidential aspirants, as well as an annotated chronology of events and a two to four page overview of each election. A brief bibliography accompanies each election summary. The site is free, and is partnered with Alexander Street Press, which offers access to Harper's Weekly by subscription.
The utility of the site depends on one's intention. As a tool for students Presidential Elections has limitations. The election overviews are fair, but their bibliographies are incomplete and outdated. More problematic is the nature of nineteenth century cartoons. The term "cartoons" during this era is a better understood as a euphemism for illustrations. Many of the images are magazine cover drawings, admittedly stylized in many cases, but not cartoons as understood today. Cartoons of the mid-nineteenth century often were cluttered collages of specific historical events, situations and people, including symbols of antiquity. They lacked the intuitive comprehension that a drawing by Herblock or Oliphant, or even Jay Norwood "Ding" Darling (Des Moines Register and Leader, 1906–1949) possesses. These older drawings need a lot of classroom support to be useful to high school and college students. (See, for example, Thomas Nast's, "Lead Us Not into Temptation," Harper's Weekly, September 19, 1868, p. 600.) To their credit, the web authors provide a summary statement about the content of each cartoon.
Researchers and teachers of Gilded Age-Progressive Era politics, however, will find the collection a handy reference. I inserted images of the Democratic donkey (from Harper's Weekly, 1908) and the Republican elephant (from Puck, 1908) that appeared into my PowerPoint on Politics in the Gilded Age and Progressive Era. "How Can He Fail?" and "The Clumsy Elephant". Most undergraduates probably recognize these creatures as party symbols. Of course, few historical cartoons are entirely self-explanatory. My PowerPoint of Herblock's Richard Nixon are primary an entrée to a discussion of Watergate.
Ballard Campbell
Northeastern University
Boston, Massachusetts