Freedom Bound: The Underground Railroad in Lycoming County, PA
http://www.lycoming.edu/underground/
Creation directed by Lynn Estomin, Lycoming College.
Reviewed June 15–25, 2004.
This attractively designed Web site presents the Underground Railroad activity of abolitionists in the Williamsport area of Pennsylvania, a very important link in the historic route from the slave South through Pennsylvania and western New York State to freedom in Canada. The central character is Daniel Hughes, an American Indian whose part in helping escaping slaves is not widely known. According to family history, documented and recounted by Hughes's great-granddaughter, Mamie Sweeting Diggs, Hughes was a river raftsman whose business on the Susquehanna River took him into Maryland. On return trips, he brought escaping slaves to freedom. Hughes and two of his sons undertook classic Underground Railroad activities, hiding fugitives in secret compartments and laying traps for slave catchers. Also prominently part of the story are white abolitionists, many Quakers, and one black man named George Roach who worked with the Hughes men on the Underground Railroad. In one sense, this site tells a familiar story. The romantic version of the story—the secret hiding places, false wagon bottoms, lantern signals, dedicated white conductors, and narrow escapes—comes largely from clandestine activities in such border states as Pennsylvania. Through five effectively presented oral history narratives by Diggs, however, this site also reveals the systematic aid to fugitives given by Indian communities in the North. Oral histories seem an especially appropriate vehicle for this experience shared by two peoples who rely on oral tradition.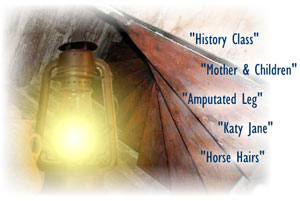 "Freedom Bound," created by a project in public art, features the oral history
of the Underground Railroad in north central Pennsylvania.
A project in public art at Lycoming College in Pennsylvania produced this Web site. It is the collective accomplishment of twelve senior art majors; their professor, Lynn Estomin; the visiting artist Steve Marc; and the local historian Diggs. The project created very large banners, artfully interweaving photos and images depicting people and sites of the local Underground Railroad. The banners, shown on the Web site, were originally hung at a supermarket located where there was once a warehouse used for hiding fugitive slaves. They remain available for display at local public buildings. The Web site also includes a timeline from 1565 to 1867, from the arrival of African slaves in Spanish Florida to the end of slavery and a speech that the famous black abolitionist Frederick Douglass gave in Williamsport. The timeline includes entries pertinent to slavery and freedom and sets local Williamsport and Pennsdale events in the context of state and national history.
Freedom Bound is rich in information. In addition to the five oral histories and the timeline, it contains pictures and text on local Underground Railroad workers and sites. Clicking on "Historic Sites and Routes" takes the viewer to a nineteenth-century map of Williamsport with 13 sites marked. A map of Pennsdale, just east of Williamsport, containing another 11 sites, is revealed by clicking on Pennsdale at the top of the Williamsport map. This Web site is logically organized with many levels of information and is easy to navigate. It contains visual material that is beautifully photographed and presented, some accompanied by music. The animated superimposition of images on photographs is a particularly creative and effective use of the medium. Most of the material is of local interest, but teachers and students everywhere will find much of value for learning about this exciting period in the struggle to make freedom a reality for all Americans.
Lois E. Horton
George Mason University
Fairfax, Virginia