The Zora Neale Hurston Plays at the Library of Congress
http://international.loc.gov/ammem/collections/hurston/znhintro.html
Created and maintained by the Library of Congress.
Reviewed Jan. 2011.
Zora Neale Hurston is most famous for her novel Their Eyes Were Watching God (1937). However, the Library of Congress offers an important public service with its well-organized, easily accessible Web site, The Zora Neale Hurston Plays at the Library of Congress, where the noted folklorist's superb plays are available, both digitized and transcribed. These plays offer profound insight into the mind of the famous Harlem Renaissance anthropologist and are an essential source for any scholar of that era.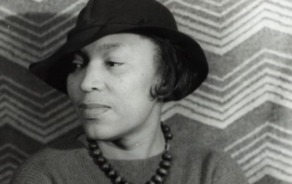 [Portrait of Zora Neale Hurston], 1938
Carl Van Vechten, photographer
The Library of Congress offers these ten plays online because of the high international demand from scholars requesting access to the originals. Hurston originally deposited the scripts with the United States Copyright Office in 1925, 1930, 1931, 1935, and 1944 to protect their copyrights and to place copies in trust with the government. The copyrights were never renewed. By the 1980s all of the plays were transferred from the U.S. Copyright Office to the Library of Congress, and those versions are now in the public domain. The Library of Congress is quick to acknowledge that other versions remain copyrighted or in private hands, a fact that further underscores the importance of this new form of public access.
These plays are extremely valuable for Hurston's cultural and political commentary on early twentieth-century African American social and race relations. The earliest play here is Meet the Mamma, a 1925 spoof of the Marcus Garvey "back to Africa" movement. The 1930 Cold Keener is a revue of nine skits that challenge the minstrelsy movement of the period. In it, Hurston incorporates African American folklore, political commentary, and humor to upend traditional representations of African Americans in drama. For example, one skit, "Filling Station," portrays two motorists, one from Alabama and the other from Georgia, engaged in "woofing" (slang for giving humorous insult), in disagreement over which state has the meanest white people.
The cultural implication of these plays is extraordinary. Several are musicals and include numerous commentaries by Hurston toward stage direction. Meet the Mamma, a musical play in three acts, includes lyrics to several songs including "Everybody's Man Is Better to Me Than My Own" and "Gravy Blues." The plays Spunk (1935) and Polk County (coauthored with Dorothy Waring in 1944) are romantic musicals that incorporate naturalistic representations of African American folklore. Each sheds light on Hurston's research in African American roots music and voodoo practices. Spunk also includes Hurston's hand-drawn stage set directions for act 1, scene 2.
Included also is a skit that Hurston coauthored with Langston Hughes. The unfinished "The Mule-Bone" (1931) appears here with Hurston's completed original, De Turkey an de Law (1931) for comparative purposes. Other plays include Forty Yards, Lawing and Jawing, Poker! and Woofing, all deposited in 1931.
The Zora Neale Hurston Plays at the Library of Congress is easily navigable and the images are clear and interesting to view. The transcribed text is also readable, despite some transcription errors. The site is a fine addition to the Library of Congress collections and will serve as an important resource not only to research scholars but also as a classroom tool for college and high school students.
Karin Zipf
East Carolina University
Greenville, North Carolina