Maine Memory Network
http://www.mainememory.net.
Created and maintained by the Maine Historical Society.
Reviewed July 30, Nov. 3–10, 2003.
A profusion of Web-based archives now provides students, scholars, and the general public access to entire or partial collections without having to leave home or office. Many historical societies, museums, and libraries have rushed to join this effort to digitize and make more accessible their records. The Maine Memory Network adds another important collection of primary sources to cyberspace, but, like so many of its predecessors, it does not provide users the tools with which to engage those rich resources more deeply.
Created by the Maine Historical Society, the Maine Memory Network exemplifies an important new trend among state institutions to collaborate by combining and sharing primary resources through new technology. The Web site includes items from dozens of organizations in Maine, which input documents directly into the database through their own Web browsers. Network staff assist contributors with technical training. The collaborative effort has helped smaller historical societies digitize and publicize their limited, but valuable, collections.
The extensive database can be searched by keyword or through specific lists of themes, names, or collections. The amount of materials available on different subjects varies; for example, thirty-five items appeared in a search on Henry Wadsworth Longfellow ("Famous People") while one single photograph materialized for the category "Labor Unions." The increased visibility of collections on the Internet may inspire professionals and communities to locate and preserve materials on subjects that now have little documentation.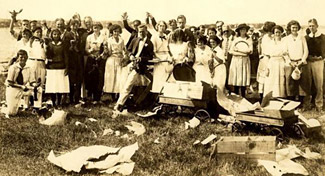 Choosing Lobsters for a Clambake, Squirrel Island, 1921
The site is well designed, easy to navigate, and inviting to a first-time user. A particularly nice feature is the split screen that highlights the catalog and descriptive information alongside each thumbnail image. Users are invited to contribute additional information about the photograph, artifact, or document represented.
In another section of the site, thematic exhibits about such topics as the corn-canning industry and the woman suffrage movement can be viewed in printer-friendly text or slide show formats. The label text introduces users to the historical context critical for understanding the images one might encounter in the database. The creative teacher might use the exhibits to demonstrate how historians can fashion a story from available sources.
Otherwise, there is no instruction on how to find more information or to think about or interpret the myriad of sources presented on the site. Users are encouraged to create their own slide shows or albums, but technical instructions on how to select and save images overlook opportunities to discuss the art of selection and how to make meaningful connections between sources. The "add to album" and "add to cart" icons that appear on each page after registering create the feel of a market rather than a serious archive.
These criticisms by no means denigrate the site's attempts to generate enthusiasm for and provide greater access to the state's primary resources, but, in the effort to entice people to consume their "products" from so many digital history archives, history education is often put on the back shelves. Users are seldom introduced to the complexity of making sense of the past from an archive, what its limitations might be, and how to contextualize its rich sources. All institutions, including the Maine Historical Society, would greatly benefit from more usability studies of digital archives that could help them develop strategies for teaching the meaning of the "stuff " of the past.
Laurie Mercier
Washington State University
Vancouver , Washington