Voices of Civil Rights
http://www.loc.gov/exhibits/civilrights/
Created and maintained by AARP, Leadership Conference on Civil Rights, and the Library of Congress.
Reviewed Dec. 2009–Jan. 2010.
Civil Rights Oral History Interviews: Spokane, Washington
http://content.wsulibs.wsu.edu/cdm-cvoralhist/
Created and maintained by Washington State University.
Reviewed Jan. 2010.
As the civil rights movement marches from memory to history, its chroniclers must confront a difficult series of questions: How do historians capture the heroism without indulging in romanticization? How do we unearth, preserve, and pass down the stories while still placing them in historical perspective?
Books on the black freedom struggle can fall flat when they seek only to exhume one more local struggle. Documentary films and museum exhibits can seem clichéd if they recycle the tales of Rosa Parks and Martin Luther King Jr. Web sites devoted to documenting the civil rights movement also miss the mark if they simply use a novel medium to present the same old stories in the same moralizing language.
Both Voices of Civil Rights and Civil Rights Oral History Interviews provide valuable new material about the civil rights movement. They harness the power of the Internet to unveil dramatic nuggets from this historical moment. At the same time, neither site meets the larger demand for balance between celebration and comprehension.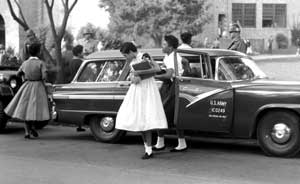 African American students arriving at Central High School, Little Rock, Arkansas,
in U.S. Army car, 1957. Photograph by Bern Keating.
Voices of Civil Rights, an electronic exhibition directed at a public audience, is – in its best moments – deeply moving. This site touts itself (somewhat implausibly) as "the world's largest archive of personal accounts of civil rights history." These accounts were collected during a 2004 bus tour that began in Washington, DC, traveled as far west as California, and then doubled back through the Midwest. It covered thirty-nine cities over seventy days and, along the way, interviewed thousands of "ordinary citizens" about their civil rights experiences.
The site features photo galleries, video clips, civil rights timelines, and even quizzes. The most useful part of the site, a searchable archive of interview transcripts, is labeled "The Voices." Sorting by location, subject, and year, the search engine will yield a list of interviews, most of which are quite engrossing. Yet it is difficult to understand the process by which these transcripts were produced. Many of the interviews are only six or eight short paragraphs in length; at times they are much shorter. The brevity of the transcripts prompts several questions: Why are they so short? Were they edited for length? What was preserved? What was left out?
The bus tour itself comprises a large segment of the site. For each locale, visitors can choose to follow the tour either through video or through a written journal. The video parts are continually moving and they are enlightening, but they often leave the viewer wanting more. The journal, comprised of "reports from the road," is often melodramatic and tiresome. Nery Ynclán prints a poem written by a woman from Raleigh, North Carolina, and recounts how she gave this woman a hug. Vern Smith, writing at the outset of the adventure, repeats a rabbi's charge to "pass on the light." He writes: "Aboard the Freedom Express, it is our intent to do just that."
Unfortunately, these journalists almost always get in the way of stories that are otherwise compelling. The site would be far more valuable if it showed many more, and longer, film excerpts. The World Wide Web is a wonderful medium for video archives, possessing the rare potential to bring us the civil rights story through the words – and with the visages – of those who lived it. Presumably Voices of Civil Rights has an extensive video repository, but only snippets of it are available online.
Many black southerners have gripping stories to tell. A man in Selma, Alabama, shares a memory of his father's fortitude in the face of indignities. "It bothers me even today when I see what my dad experienced, and I can still see that tear trickling down his cheek." After the bus rolls into New Orleans, a black woman shares her story of integrating an elementary school in the Big Easy. "When we get out of this car," her mother told her in 1960, "give me your hand, put it in mine, and just remember that whatever happens, I'm here." These are the types of stories that people need to hear, a man in Mississippi observed. And they need to hear it "from the woods where it happened." Voices of Civil Rights rises to its best when parts of the site achieve that goal. When one of the journalists writes an entry about stubbing his toe as a way of trying to imagine what it would be like "to endure a beating with a baseball bat," he shows how easily the power of even the most meaningful stories can be sapped. Such is the larger bind into which the Voices of Civil Rights site places itself and which it never quite resolves. There is so much good material buried here, but too often the user must plow through thickets of melodrama to find it.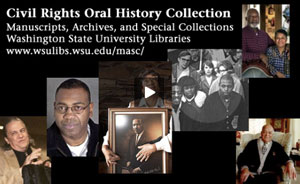 A collection of oral histories on civil rights in Spokane, Washington, faces a different sort of problem. This archive, maintained by Washington State University, directs itself mainly at the local Spokane community – and perhaps also at scholars of the civil rights movement's northern incarnation.
The interviews, conducted by the Spokane newspaper reporter Rebecca Nappi, are smartly displayed on Washington State University's Web site, and they are easy to navigate. While the university library possesses hard copies of the interview transcripts, no transcripts are available online.
The greatest strength of both Voices of Civil Rights and the Spokane civil rights oral history project lies in the voices themselves – in those moments when they feel unfiltered and when the civil rights past speaks to the twenty-first-century present. One such moment comes when Samuel Minnix recounts a protest at the Spokane County courthouse, attended by students from Gonzaga University along with members of Spokane's small African American community. Minnix reflects on the larger meaning of these struggles: "Freedom comes at a very high price, and the price has to be paid daily. And if we're not paying that price, it will be eroded . . . eventually there won't be any." Other poignant moments include Clarence Freeman's recollection of the April afternoon when, while mowing his backyard, he was told of Martin Luther King Jr.'s assassination. Jerrelene Williamson remembers her emotions when marchers were beaten on the Edmund Pettus Bridge in Selma, Alabama, and how she – in Spokane – could empathize with her black brethren in Dallas County.
The Spokane oral histories rarely trade in melodrama, but, given that the site consists of only eight interviews, their larger intellectual payoff remains unclear. Because the wider import of Spokane's civil rights history is far from self-evident; the site needs to do more to contextualize such interviews. They would be best used if they were combined with other civil rights projects, perhaps those focusing on the Seattle or Portland areas. Ideally, these eight interviews will form the beginnings of something larger, but there is no indication that they might be part of a grander plan.
These sites suspend us between the too grand and the too narrow, the melodramatic and the obscure. If there is a larger lesson for these sites – and for others wishing to document and disseminate U.S. civil rights history – perhaps it is this: highlight the voices themselves, provide context for them, and frame them. Otherwise, rely on the Internet's audio and video capacities to communicate the drama of that history.
Jason Sokol
Harvard University
Cambridge, Massachusetts