Columbia River Basin Ethnic History Archive
http://archive.vancouver.wsu.edu/crbeha/home.htm
Created in collaboration with Washington State University–Vancouver, Idaho State Historical Society, Oregon Historical Society, Washington State Historical Society, and Washington State University–Pullman. Maintained by Washington State University–Vancouver.
Reviewed June–Oct. 2010.
In 2003 the Columbia River Basin Ethnic History Archive was developed to highlight hidden ethnic histories of the Columbia River basin. A tri-state collaboration using CONTENTdm collection-management software, contributing institutions included the Vancouver and Pullman campuses of Washington State University, and the Idaho State Historical Society, the Oregon Historical Society, and the Washington State Historical Society. Funded by an Institute for Museum and Library Service grant, the project's goal was to identify, digitize, and describe collections concerning non–Native American ethnic groups of the basin. According to the Web site, the archive focuses on relatively recent migrants identified as having African, Asian, European, or Latin American heritage whose archival documentation is less extensive. The archive is strongest in documents and photographs, but it also includes reports, records, maps, newspapers, artifacts, and oral history interviews from the region dating back to 1860.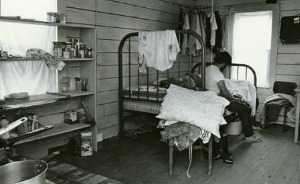 Interior view of migrant camp housing, July 9 1972, by Donald Wilson.
The site is divided into four parts. Part 1 provides an overview of the project, a list of partners, and a map of the region. In part 2 users can search the archive by ethnic group, keyword, or through four predefined searches (contributing institution, material type, decade, or subject). Links to ethnic groups include brief historical overviews and bibliographies written by Washington State University faculty and doctoral students with expertise in Pacific Northwest history. The site is particularly rich in materials relating to African Americans, Basque Americans, Chinese Americans, and Japanese Americans. Other represented groups include German Americans and Mexican Americans. The section on Native Americans purposely contains links to information outside the archive because of the extensive work of other area archives to digitize those materials.
Part 3 is most useful for teachers, as it provides introductions to primary and secondary sources, and tips on conducting research and interpreting materials by format. Of particular interest to educators are classroom activities and lesson plans for grades 5–12, complete with additional resources and state student learning benchmarks for Idaho, Oregon, and Washington. Lesson plans include prepared curriculum on African Americans, immigration, migration, settlement, and ethnic culture and identity.
Some technical issues exist within the site. Broken links occur within the navigation, certain historical overviews, and the discussion forum (part 4), which is no longer available. Most of the metadata associated with each item is not hyperlinked for easy browsing, and documents do not appear to be full-text searchable. It seems that the site is no longer actively maintained, which helps explain the technical issues.
Regardless, the Columbia River Basin Ethnic History Archive provides an impressive selection of approximately 1,200 primary sources documenting the political, social, and economic histories of immigrant and ethnic populations in the Pacific Northwest. The bulk of materials portray ethnic life in the first half of the twentieth century, including migration and immigration; employment; living spaces (neighborhoods, communities, and boardinghouses); ethnic celebrations, culture, and identity; rural and city life; and the effects of discrimination and anti-immigrant legislation, including Japanese internment camps. The archive remains an important resource for a wide audience, including teachers, students, researchers, and anyone with interest in nineteenth- and twentieth-century Pacific Northwest history.
Erin Passehl
Western Oregon University
Monmouth, Oregon