Jews in America: Our Story
http://www.jewsinamerica.org/
Created and maintained by the Center for Jewish History, New York, N.Y.
Reviewed Dec. 8–15, 2005.
The first Jewish community in North America migrated from Recife, Brazil, landing in New Amsterdam in 1654. The year 2004 thus marked the 350th anniversary of permanent Jewish settlement, and a myriad of public programs, exhibitions, and publications have celebrated and reflected on this milestone. Jews in America: Our Story—a Web site created by the five partner organizations of the Center for Jewish History (CJH): American Jewish Historical Society, American Sephardi Foundation, Leo Baeck Institute, Yeshiva University Museum, and YIVO Institute for Jewish Research—operates in the same vein. The site's content is divided into three areas: (1) documents, photographs, and artifacts; (2) a timeline, including a narrative and links to other useful sites; and (3) a "Special Features" segment, which includes videos, essays, and "closer looks" at selected artifacts.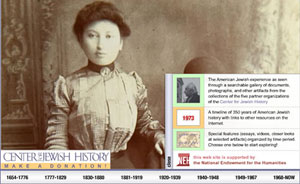 Jews in America suggests an argument that will be familiar to those steeped in similar anniversary material. The creators describe the site as "a portrait of American Jews—and a portrait of America." In other words, as Jews' encounters with America shaped Jewish experiences, those encounters also helped shape the American nation. This contention is already commonly accepted in American Jewish historiography, but for the purposes of a Web site that will be accessed by individuals outside academic communities, the multiple demonstrations of the interaction between Jews and America are compelling.
The documents are searchable by time period, keyword, and state. The range of materials within certain states is notable. The documents related to Illinois, for example, include a Yiddish-language card commemorating the 1886 Haymarket riots, a book of Yiddish translations of poems by Langston Hughes, and a photograph of a sewing class at the Jewish Manual Training School in Chicago. Because of the strengths of the cjh collection as well as the history of Jewish settlement patterns in America, the geographical scope of the collection is limited and clustered. A search on New York State yields 306 items, Illinois yields 9, but a majority of states are not represented.
At the timeline visitors can find a number of entries for almost every year from 1654 to 2004. The timeline provides text about events, with links to other useful sites.
The "Special Features" section takes most advantage of the Web as a medium but is also the most difficult to navigate. Here, the past 350 years are divided into nine time periods. Within each period, visitors can explore topics, a timeline, images, video and audio, featured artifacts, and suggestions for further reading. There are few featured artifacts, so one hopes that more will be added eventually. Most of those that are accessible are books. A visitor can click through four pages of the Yiddish-language Hughes poems, for example, or turn a few pages of a modern Passover Haggada by the artist David Moss. The subject matter within the video and audio sections looks promising, but on many of the days when I visited the site, the video links were broken.
Nevertheless, if the creators continue complementing the site with more artifacts, Jews in America: Our Story could become a mainstay for accessing American Jewish history and primary source material on the Internet.
Daniel Greene
U.S. Holocaust Memorial Museum
Washington, D.C.