Jewish Women and the Feminist Revolution
http://www.jwa.org/feminism/
Created and maintained by the Jewish Women's Archive, Brookline, MA.
Reviewed Jan. 26–Feb. 23, 2006.
Since its establishment in 1995, the Jewish Women's Archive (JWA) has been committed to digitizing as many records about Jewish women in America as exist. In doing so, it is arguing that history must be examined in gendered terms. The jwa's online exhibit, Jewish Women and the Feminist Revolution, exploits the online format to provide a rich, multilayered history of Jewish women's activism in the United States from 1963 through 1999.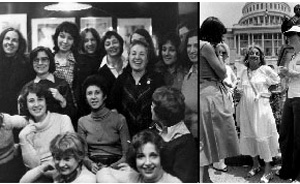 Susan Brownmiller, 1975; Betty Friedan, 1978.
Broad definitions of Jewishness and feminism guide the exhibit. Orthodox women's efforts to gain more significant roles within the traditional structures of Judaism are placed alongside a lesbian rabbi's contention that homosexuals are the new lifeblood of Judaism. Furthermore, the exhibit highlights the activism of many women who, although Jewish, have not focused their lives on Jewish issues. For example, Nina Totenberg, the National Public Radio reporter who broke the Anita Hill story in 1991, merits a place in the exhibit despite the fact that her accomplishment is not directly related to anything particularly Jewish. Similarly, Eve Ensler's campaign to end violence against women is included without any mention of Ensler's Jewish identity.
The capaciousness of the exhibit, however, is paired with a self-consciousness about the meaning of Jewishness and feminism. The creators of the exhibit, far from attempting to draw a natural link between the two—as if there is something intrinsically feminist in being Jewish or vice versa—offer serious criticism of both Jewishness and feminism. On one hand, they ask whether feminism has been inclusive of all women, and they draw viewers' attention to incidents of anti-Semitism within the women's movement. On the other hand, they feature the voices of women who have felt excluded or underserved by the Jewish community. Susan Brownmiller, for example, who wrote Against Our Will (1975) about rape, explains that she realized from a young age that only men could have power within Judaism: "So much for Judaism, so much for religion—I became an atheist, a secularist, and never looked back."
The intellectual integrity of the exhibit is matched by the intelligence of its design. Viewers can access the information through a timeline, a series of thematic issues, and a search tool that digests the Web site into categories of people, dates, topics, and formats (for example, video, audio, visual art, and letters). Artifacts ranging from historical documents and magazine covers to video clips, songs, and photographs are paired with statements written by women activists and short biographies of those women. Terms and events that might be unfamiliar to viewers are glossed in a separate window. My only reservation about the format is that the mechanism for scrolling through the text is a little clunky, which makes it difficult to follow any particular reading beyond the first screen.
Jewish Women and the Feminist Revolution is an invaluable contribution to women's history, American history, and Jewish history. It is easily accessible and would enhance a high school or college-level class as much as it would enlighten any Web surfer eager to learn more about Jewish women and feminism.
Lila Corwin Berman
Pennsylvania State University
University Park, Pennsylvania