American Broadsides and Ephemera, Series I: 1760–1900 (access by subscription)
http://www.readex.com/readex/product.cfm?product=2
Readex, NewsBank, Inc.
June 15th, 2008.
American Broadsides and Ephemera, Series I: 1760–1900, a part of the Readex Archive of Americana, is a boon to scholars, teachers, and students of American history. The collection contains approximately thirty thousand digitized broadsides and ephemera pieces from throughout the United States and several other countries. The items cover a tremendous range of subjects and genres, including campaign literature, political meeting notices, song lyrics, restaurant menus, invitations, and advertisements for theatrical performances and musical programs. All of the material in this archive was scanned from the collections of the American Antiquarian Society.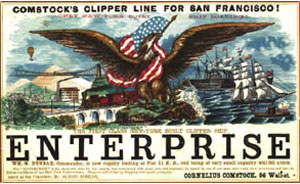 The sheer size of this archive is daunting, but its compilers have created several relatively easy ways to search the contents. Users can employ a browse function that contains lists of over 120 genres and hundreds of subjects organized under sixteen categories. Researchers can also browse the archive by author, place of publication, and the language in which the item was printed. One can conduct keyword searches under six fields, and an advanced search engine allows users to narrow their terms more precisely. However, as is the case with many search engines, users must learn through trial and error what search tactics are most effective. The subject list pages can be particularly fruitful, but the user must browse all categories for items of interest. Under the category "economics and trade", for example, the subject "alcoholic beverage industry" displays eight results, which range from advertisements for liquor stores to temperance literature. But users should not just browse a single category. They can also search in the "society, manners and customs" category to find the subject "temperance", which contains 242 items that range from meeting advertisements to cautionary tales and images, to temperance song lyrics and poems. The topics alcohol and temperance also arise in the "health," "law and crime," and "literature" categories, among others, although many items are referenced across several categories.
Thumbnail images of each item can be enlarged to reveal full-color, printable images that are clear and of reasonable size. The text of the full-size images is not always readable, but a zoom option helps make small print legible and provides a closer look at design details. Some of the more complicated items take time to load, even with a high-speed Internet connection.
Explanations and context for the broadsides and ephemera are limited to the title of each item, citation and source information, and sometimes a very brief description. Because there is little context for the items and no full descriptions of the origins and significance of the texts, the archive could be difficult for inexperienced undergraduates to utilize for research. However, more advanced undergraduates, graduate students, and faculty will find these sources invaluable for research and the classroom. Although the archive's subscription cost may put it out of the reach of some institutions, American Broadsides and Ephemera is a valuable contribution to the growing body of digitized documents and images.
Ellen Holmes Pearson
University of North Carolina
Asheville, North Carolina