BlackPast.org: Remembered and Reclaimed
http://www.blackpast.org/
Created and maintained by Quintard Taylor.
Reviewed Feb.-Aug. 2008.
As with many serendipitous Internet origins, BlackPast.org's humble beginnings belied its future popularity. In January 2004 the University of Washington history professor Quintard Taylor began enhancing his lectures and classroom discussions by posting reference materials in African American history to his faculty Web site. With assistance from several graduate students he continued to add content, and within eighteen months he had received queries from students around the world. In October 2005 Taylor and a growing number of volunteers decided to expand the site into a comprehensive, online encyclopedia. Within a few months, when the site began receiving more than a thousand hits per day, a Web design company was hired to establish a site independent of Taylor's faculty Web page. Almost five hundred thousand visits to the site were recorded for 2007, a figure that was eclipsed in the first six months of 2008.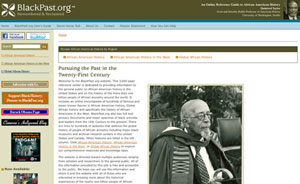 As of August 2008, the featured encyclopedia includes more than 1,500 entries from over 250 contributors. Most of the contributors are academic historians, and numerous entries are written by people affiliated with the University of Washington, including undergraduate history majors. Entries generally range from 250 to 750 words, are intended for a general audience, and include sources for further study. Visitors can browse within three broad categories: African American history, African American history in the West, and the latest addition, Global African history. The site favors African American history in the West, which is a reflection of Taylor's scholarship and influence. Within each category, entries are further organized by people, places, events, institutions, and organizations, but biographical entries make up the vast majority. For example, no institutional entries are currently posted for Global African history. In addition, experts in African American history might still find significant omissions (for example, Tunis Campbell) among the biographical entries. Enterprising students or junior scholars may wish to submit contributions to correct such oversights, as the site indicates that entries are added daily.
As the encyclopedia evolves, history students and teachers will find other helpful resources on the site. Extensive bibliographies with titles as recent as 2007 are available for each topic. Another Web page includes links to digital archives in African American history from around the country. One can also find a collection of over one hundred speeches, beginning in the late eighteenth century and extending to Barack Obama's March 2008 speech on race. A collection of primary sources begins with Louisiana's Code Noir (1724) and continues through recent Supreme Court decisions. Finally, a series of timelines situates important events in African American history. The chronologies for the nineteenth and twentieth centuries are especially thorough.
Critics will find omissions among some features, and BlackPast.org certainly remains a work in progress. However, the site is easily navigable, well organized, and, as traffic already indicates, students and teachers of African American history stand to benefit from its offerings. BlackPast.org is now registered as an independent, nonprofit corporation, so users who benefit from the site should consider lending financial support for its continuation and expansion.
Barclay Key
Western Illinois University
Macomb, Illinois