Gifts of Speech: Women's Speeches from around the World
http://gos.sbc.edu/
Created and maintained by Liz Kent, Sweet Briar College, Sweet Briar, VA.
Reviewed June 23–26, 2008.
In 1989, the librarian Liz Kent was both surprised and frustrated when she could not locate the text of a Gloria Steinem speech in any of the resources at her small college library. This incident preyed on Kent's mind for several years until development of the Internet enabled her to create a solution. In 1996 she launched Gifts of Speech, a free web-based archive that now includes the texts of hundreds of speeches by prominent women.
Kent originally designed Gifts of Speech as a way for secondary students and undergraduates at small colleges to access materials normally available only at large research libraries. Yet she created so much more. Most of the documents archived on the Web site have never been published in any paper-based format and are available to researchers exclusively at Gifts of Speech. The bulk of the collection is composed of almost four hundred speeches delivered by female artists, scientists, politicians, and humanitarians between 1991 and 2000 and donated in response to requests from Gifts of Speech. In addition to these donated materials, the archive includes several well-known contemporary speeches obtained from public document sources. Even a partial list of the women whose speeches are available at the site reads like a who's who of the 1990s: Madeleine Albright, Benazir Bhutto, Princess Diana, Elizabeth Dole, Ruth Bader Ginsburg, Anita Hill, Courtney Love, Queen Noor, Janet Reno, Mother Teresa. This resource is unmatched for retrieving prominent female voices from the final decade of the twentieth century. The site also includes a few twenty-first-century speeches.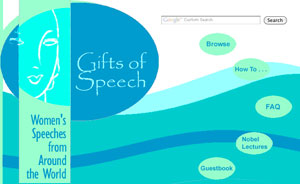 Although the site focuses largely on speeches delivered beginning in the 1990s, Kent has added, in response to requests from secondary teachers, several important addresses from the nineteenth century and the early and mid-twentieth centuries. Among the approximately seventy pre-1991 speeches are addresses by nineteenth-century suffragists, Emma Goldman's 1917 antiwar speeches, Golda Meir's 1957 address to the United Nations, Hillary Rodham Clinton's 1969 Wellesley College commencement address, and Jane Fonda's 1972 Radio Hanoi broadcast. Most of the Nobel lectures by female laureates—from Marie Curie's chemistry prize speech (1911) to Doris Lessing's literature prize lecture (2007)—are there. Researchers can also access the twenty-three speeches by women listed among the "Top 100 American Speeches of the Twentieth Century." (For the record, at number 5, Barbara Jordan's keynote address to the 1976 Democratic National Convention is the list's highest-ranking speech by a woman [see http://www.americanrhetoric.com/newtop100speeches.htm].) The site includes only the best-known versions of these previously published speeches, regardless of their provenance. The text of Sojourner Truth's 1851 women's rights speech, for example, is the 1863 Frances Dana Gage version, which includes the disputed "Ain't I a Woman" refrain.
Users can easily browse the speeches by year or by the speaker's last name. They can also execute keyword searches using the Gifts of Speech Google engine. Although the site's subtitle promises "Women's Speeches from around the World," only researchers looking for addresses by American women will find a wide selection of documents.
Katherine Jellison
Ohio University
Athens, Ohio