Twentieth-Century Girls: Coming of Age in the Twentieth Century, Stories from Minnesota and Beyond
http://www.mnsu.edu/mngirls/
Created and maintained by Minnesota State University, Mankato.
Reviewed Nov. 25-Dec. 4, 2006.
Twentieth-Century Girls features the recollections of twenty-six women born and raised in Minnesota between 1909 and 1983. In an effort to "inform," "inspire," and encourage viewers to transcend stereotypes (for example, "sluts" and "tomboys") about female adolescents and to think "critically about girlhood and what it means," undergraduates enrolled in "Coming of Age: Gender and Culture," a course taught by Susan Freeman at Minnesota State University, interviewed their mothers, grandmothers, teachers, sisters, and friends in 2004 and 2005.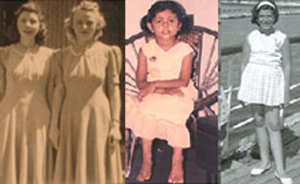 The interviews included in this easy-to-navigate Web site accompany thumbnail biographies and family photographs created for each of the twenty-six interviewees. Their life "stories" are made accessible through two stacks of thematic links to both videoed and transcribed interviews. Though topics vary considerably and include some extraneous subjects, most focus on education, dating, family relationships, and rituals. Other pertinent subjects include menstruation (aka "the curse"; "coming of age"), pranks, fears, music, friends, and other aspects of girls' and women's lived experiences.
As a project that privileges the history of female adolescence, this site is truly commendable. From the interviews to the self-assessments, it is obvious that Freeman thoroughly inspired and motivated her students to engage in a labor-intensive endeavor that required no shortage of cooperation, organization, and determination. The "Reflections" link, which includes more than two dozen of the student interviewers' enthusiastic group assessments of the "process and the project," reveals that the experience enhanced their understanding of the continuities and changes between their own girlhoods and those of their mothers' and grandmothers' generations.
While this is an impressively implemented course project, the site will be less useful as an archive to historians researching the history of girls. The topics are germane, but the general nature of the interviewers' questions naturally elicited few specifics. Such questions as, "What was it like to grow up during . . . ?" and "What were your favorite memories growing up?" are unlikely to target and tap detailed recollections.
Moreover, there were few follow-up questions of the kind that probe beneath the surface or that help provide a time frame critical to historians. Perhaps the topic coverage is more slight than solid because the broad scope of the project extends too far before and too long after adolescence. More tightly focused (and somewhat standardized) interview topics uniquely relevant to the history of teenage girls could render this site far more useful. Additionally, the application of new media tools that could compile all the information on a designated topic with a single keystroke would make social/cultural changes more visible and the site more useful to students, instructors, and researchers. Finally, while the course reading list (also on the site) is a comprehensive collection of recent works on the history of twentieth-century female adolescence, it would be advantageous to future interviewers in Minnesota and elsewhere contemplating similar locally-focused, girl-centered projects to become acquainted with the theories and methods of oral history as well as the science and psychology of memory.
Miriam Forman-Brunell
University of Missouri
Kansas City, Missouri