Calisphere: A World of Primary Sources and More
http://www.calisphere.universityofcalifornia.edu/
Created and maintained by the California Digital Library, University of California Libraries.
Reviewed March-June, 2009.
Calisphere is a well-organized and attractive Web site that allows the public to access over 150,000 primary sources that were previously dispersed in separate archives. A service of the University of California libraries, it includes a treasure trove of sources from all ten campuses and more than eighty cultural heritage institutions around the state. Conceived as a public gateway to provide educators access to University of California scholarship, the site represents what I hope is a larger trend of universities and colleges considering how to make their resources useful and accessible to K-12 teachers and students. Calisphere provides a good model, with its rich source collection and teacher-friendly organization that also allows easy exploration by scholars and history buffs.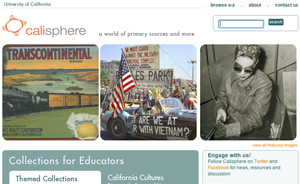 Focused on the history of California, the source collection is the heart of the site. Calisphere's collection of interesting images is apparent on first sight, as is the site's mission to create a research tool that ties together histories of different scales. Whether a photograph of a real Rosie the Riveter in the Richmond shipyards or an 1888 political cartoon that depicts Uncle Sam beating back a Chinese snake entering through the "back gate" of British Columbia, these sources demonstrate that investigating California history can reveal regional, national, and international stories.
Users enter the repository through three main portals: Themed Collections, California Cultures, and the Japanese American Relocation Digital Archives (JARDA). California Cultures examines multicultural California, with sources organized by four major ethnic groups: African Americans, Asian Americans, Hispanic Americans, and Native Americans. JARDA offers an extensive collection of materials relevant to the Japanese internment and allows users to compare sources sanctioned by the War Relocation Agency with those created by the internees. Each of the three main portals offers a set of topical primary document collections that cross-reference other sets on the site, helping users deeply explore particular topics. (A fourth generic portal leads to a set of disparate but interesting University of California Web sites that address all areas of study, but the list has yet to be organized in any meaningful way beyond home university.) Additionally, visitors can browse the site by educational standards-based topic or use its search engine, which, while useful, returns difficult-to-scan textual source results, unlike the results for images and Web sites. These multiple, teacher-friendly organizational schemes make searching Calisphere easy and productive, although taking a quick tour of the three main portals' topics is a good way to start a visit to the site.
Teachers who are thinking chronologically will most likely start with Themed Collections, where they can select one of seven historical periods (influenced by Calisphere's regional focus) to access four to six historical topics. The thirty-five available topics reflect recent historiographical trends, including emphases on the environment and historically underrepresented groups. The core of each topical collection is a grid of approximately thirty visually intriguing and easily perused primary sources. Hovering the mouse over a single image reveals the source's title and, in most cases, its date and author. Clicking on a thumbnail image retrieves a full-screen version of the source with more information, including the parent archive, copyright information, and sometimes a document transcription.
In all three main portals, the grid of sources is accompanied by teacher resources—some more useful than others. The brief accompanying overview essay that references each source and provides a coherent—if sometimes bland—narrative about the topic is an indispensable tool. (The California Cultures' portal includes a set of similarly short but more lively and scholarly historical essays.) Also helpful to any teacher who is planning curriculum are framing instructional questions, a set of analysis tools (worksheets from reputable history sites that guide students in close reading of a primary source), and brief explanatory notes that address unfamiliar vocabulary, technologies, and outdated language.
Calisphere is not, however, for the educator who wishes to download and teach a ready-made lesson, although some are available. Teachers may need to trim the number of sources listed in a particular collection or further prepare them for classroom use (by adding background information, for example). But materials that will help teachers plan engaging and challenging instruction tailored to a particular group of students can be found here, and browsing those materials will certainly deepen many teachers' historical knowledge.
The sources collected by Calisphere are valuable tools for more than just the K-12 curriculum. Site users can also find sources yet to be thoroughly identified and stories yet to be told. Because the entire collection extends beyond those selected for the individual topical sets, users would benefit from a feature that allows them to record and compile the sources they wish to revisit.
As its title of the Web site suggests, Calisphere offers a world of primary sources; more importantly for the educator, the site frames and organizes that world. Here, teachers can easily find visual primary sources (a boon for today's diverse classrooms) and small sets of documents tied to important regional and national topics. The California Digital Library has succeeded in creating a resource that brings some of the best of the University of California to elementary and secondary educators.
Daisy Martin
Stanford University
Stanford, California