Schoolchildren at Minidoka incarceration camp, Idaho, 1940s
Minidoka incarceration camp, near Twin Falls in southern Idaho, was one of 10 incarceration camps run by the War Relocation Authority (WRA) that held citizens and non-citizens of Japanese descent during World War II. The 33,000 acres of arid desert were dominated by sagebrush, and residents contended with a harsh climate and poor living conditions. The camp was open from August 10, 1942, to October 28, 1945. The peak population was 9,397, from Washington, Oregon, and Alaska. Schools in the WRA camps were staffed by Caucasian employees and Japanese American detainees, who were paid much less than their white co-workers. Students were taught principles of U.S. democracy as part of the curriculum, and they recited the pledge of allegiance like children living in freedom. In 1988, President Ronald Reagan signed the Civil Liberties Act of 1988 that provided for a presidential apology and partial monetary redress for the unjust incarceration.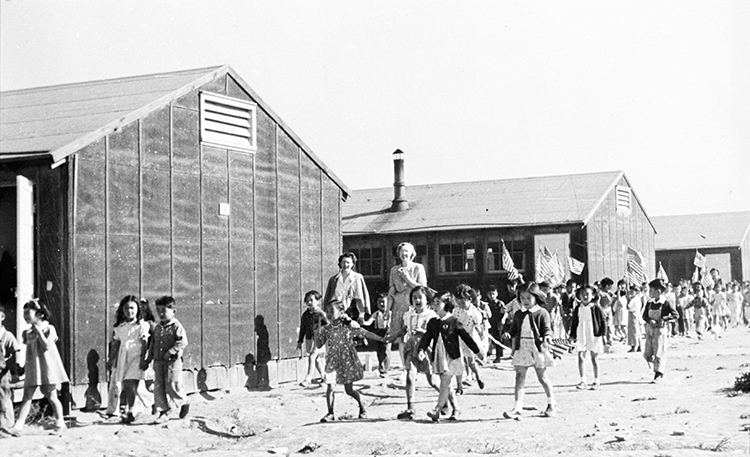 ---
Source: "Schoolchildren, Minidoka incarceration camp, Idaho, 1940s." Photograph. From Densho Digital Archive, http://www.densho.org/. Courtesy of the Wing Luke Asian Museum, the Hatate Collection (Number 1992–41–4 AX), denshopd-i39–00038 (accessed October 14, 2009).