Clio Visualizing History
http://www.cliohistory.org/
Created and maintained by Clio Inc.
Reviewed Feb.–March 2010.
The small Web site Clio Visualizing History (CVH) suggests an informal gathering of like-minded friends, where users see familiar faces and meet interesting new people. Any well-planned buffet reflects the tastes of the organizer, in this case the public historian Lola Van Wagenen, long concerned with women's issues and visual media. In 1996 she cofounded Clio Inc., Visualizing History, one of many start-up companies promoting education projects that integrate new media for the nonacademic public. After serving as an executive producer for the 2002 documentary Miss America (featured by PBS on American Experience), Van Wagenen shifted her company to a nonprofit organization, based in Shelburne, Vermont. She maintains CVH with the aid of an administrator and a graduate assistant named Jennifer Reeder. Additional help comes from a local Web design firm, Ecopixel, and a panel of a dozen advisers from the humanities.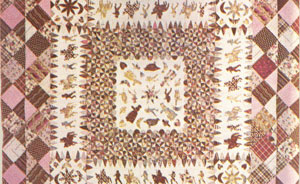 Civil War Counterpane. Pieced and appliqued.
Cotton. New Jersey, ca. 1850–1875. 96" x 111".
Shelburne Museum, Shelburne, VT. Pictured in
Orlofsky and Orlofsky, Quilts in America, 165.
CVH has a stake in half a dozen documentaries—in various stages of development—that center on lively topics in American women's history, and the site serves as a placeholder for this series of educational films in progress. But CVH is primarily a modest online salon with several attractive rooms that continue to evolve. The first, headed "Visualizing America," contains two well-illustrated case studies. One is Reeder's excellent essay on "Quilts as Visual History," complete with a bibliography and annotated links to quilt-related Web sites. The other is an elaborate presentation by the American studies scholar Gregory M. Pfitzer, built around two popular nineteenth-century survey texts on U.S. history. Pfitzer's exhibit, using more than sixty images, summarizes the argument of his 2002 book, Picturing the Past: Illustrated Histories and the American Imagination, 1840–1900.
The second room, "Photography Exhibits," contains three informative displays relating to research for Catching the Shadow: America's First Women Photographers, a CVH film project. Here again, the exhibits rely on published works. In the Frances Benjamin Johnston exhibit, Raymond Smock introduces this impressive photographer to the Web generation, building on the profile he coauthored with Pete Daniel in 1974 (A Talent for Detail: The Photographs of Miss Frances Benjamin Johnston, 1889–1910). (Unfortunately, footnotes are not hyperlinked properly.) In 1901 Johnston called attention to the photography of Mary Allen and Frances Allen, the subject of the next exhibit. Prepared by Suzanne S. Flynt, it uses images and excerpts from her 2002 book, The Allen Sisters: Pictorial Photographers, 1885–1920. The "Peter Palmquist Gallery," highlighting the work of four early women photographers from California, is a tribute to Palmquist, the founder of the Women in Photography International Archive, and it draws on a book he published in 1995. (A third room—still only a closet—is called "Creating History." Its single screen announces that an exhibit on the relation of T. E. Lawrence to the newscaster Lowell Thomas is coming soon.)
Inadvertently, the grandiose title for this focused Web site does a disservice to Clio. Artists who once portrayed the Greek muse of history carrying a clay tablet or a book now need to depict her with a mega-memory computer. But this little mélange, while effective, is hardly the first item that should pop up on Clio's laptop.
Peter H. Wood
Duke University
Durham, North Carolina