America's Historical Newspapers
http://infoweb.newsbank.com/best/academiceanall (access by subscription only)
Created and maintained by Readex, a division of NewsBank.
Reviewed Oct. 2009.
It has long been possible to buy the front page of a particular issue of the New York Times so that you can read about what happened on the day you were born. Now, thanks to the wonders of technology, you can also easily find out what happened on just about any other day in the history of the country too. Readex has launched a new subscription-based Web site, America's Historical Newspapers, that enables users to travel through time and call up issues of various newspapers to conduct, for example, a thorough study of the Civil War in the 1860s, analyze the stock market as it soared in the 1920s, or track the slugger Mickey Mantle's baseball career throughout the 1950s. Using a simple search function, users can bring to life on their monitors the pages of an old newspaper from any major American city—and some small towns—and read about whatever person or event they choose.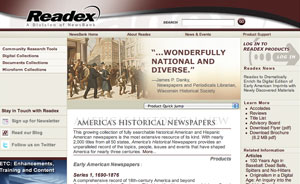 For example, one can call up any number of colonial-era newspapers to track the beginnings of the American Revolution in 1775 or search twentieth-century publications to investigate the 1941 Japanese attack on Pearl Harbor. The newspapers provide graphic accounts of history's disasters and joyous stories of its triumphs. Do you want to know what the American people thought about Franklin D. Roosevelt's famous "we have nothing to fear but fear itself" declaration? Look it up and read how ten different newspapers covered his first inaugural address in 1933. How electrifying was the 1927 baseball World Series? Call it up and read about it, game by game and inning by inning.
The site allows users to race back in time, seeing how newspapers covered real drama. I went to the October 27, 1881, edition of the Tombstone Epitaph to read its account of the fabled gunfight at the O.K. Corral involving the legendary marshal Wyatt Earp. The lengthy, colorful story about the high noon shoot-out in Tombstone was just as melodramatic and colorful as the movies that depicted the battle. Happily, the story included a historical note not presented on film: that hundreds of men working in the Tombstone silver mines piled out of the mine shafts, "like an invading army," as the reporter wrote, when they heard news of the gun battle. Users can also access a national list of newspapers—organized by state—and compare how a paper in San Francisco covered the story with its treatment in a Boston publication.
Another benefit of the site is that a specific article search also delivers a list of the other articles that appeared on the same page of that newspaper. I called up a July 1920 article on the golf great Bobby Jones and was able to read all of the other sports news on that page just by following the links.
The site has some problems. It is tricky to figure out how to call up papers, target certain pages, isolate stories, and then print them in their entirety. Once mastered, the process can be accomplished rather quickly, opening up the newspapers' riches. Unfortunately, the vault of newspapers on the site is not complete. As an example, anyone studying the Civil War would want to read the Charleston Mercury to see what happened at Fort Sumter in April 1861, but the site has no issues from that month. The same holds true for particular months of other papers. This coverage problem will improve shortly, I assume.
Overall, America's Historical Newspapers is a fabulous tool for research. The new world of electronics and gadgetry may infuriate us (turn those cell phones off!) but here, in this Internet collection of historical newspapers, it is a wonder. I am researching a book on the Civil War and was able to call up dozens of 1860s newspapers. Full of vivid and stark accounts of the conflict, the newspapers provide the first draft of history, as they say—and a colorful one.
The site will be extraordinarily helpful to scholars doing historical research, and it will also be rewarding for college and high school history teachers and students who want to use old newspapers as part of their study of the American story. Anyone with an Internet connection and wanderlust who wants to do a little journalistic time traveling can go to this site and come face to face with presidents, Oscar winners, Wall Street titans, and leaders of the women's movement
And, as the American newspaper industry continues to shrink, it is always nice to go back in time and see it in its hearty majesty.
Bruce Chadwick
Rutgers University
New Brunswick, New Jersey