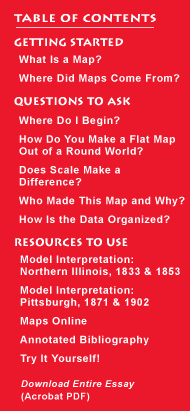 Some online maps are easier to navigate and manipulate than others, due in part to the large size of image-rich documents. Several sites require special software or plugins (available for free download) to read and manipulate maps; some maps download very slowly, even with a fast connection. A large number of maps, however, are available online, covering a broad range of topics, time periods, and perspectives. This list was created to provide an introduction to the kinds of maps available online and to emphasize some of the larger collections. The Library of Congress is one of the richest sources and offers many specific collections rich in maps that are not included on this list; in addition, there are a number of smaller sites that address specific topics.
Central Pacific Railroad Photographic History Museum
Central Pacific Railroad Maps
On May 10, 1869, in Promontory Summit, Utah, a rail line from Sacramento, California, met with another line from Omaha, Nebraska. When the last spike was driven, the Central Pacific became the first transcontinental railroad. This site provides a vast collection of online materials documenting the history of the Central Pacific Railroad and rail travel, including more than 400 railroad and travel maps. Maps range from tourist guides to land office maps to summit contour maps.
Exploring the West from Monticello: A Perspective in Maps from Columbus to Lewis and Clark
Alderman Library, University of Virginia; Lewis and Clark Trail Heritage Foundation
This 1995 exhibition presents approximately 70 maps designed to illustrate Thomas Jefferson's "views of the West and the nature of the quest to the Pacific," and the development of cartographic knowledge in North America before Lewis and Clark. Arranged into five sections, the site covers the period from the arrival of Columbus in North America to Lewis and Clark's 1803 voyage. Well-written background essays explain the role of technology in mapmaking and explore the social and intellectual contexts of Western exploration. The site offers both European and American perspectives. Particularly useful for understanding the evolution of geographic knowledge about North America and for tracing the history of cartography during this period.
Library of Congress
Geography and Map Room
A good beginning point for finding historic maps of the Americas. "Geography and Maps: An Illustrated Guide" offers an excellent overview of the Library's collections. Online collection titles are divided into seven topical areas: Cities and Towns; Conservation and Environment; Discovery and Exploration; Cultural Landscapes; Military Battles and Campaigns; Transportation and Communications; and General Maps. No commentary accompanies the maps, but there is a brief introduction to each collection. Several exhibitions contain historic maps. "Luso-Hispanic Cartobibliography" is a guide to the Library's collection of maps focusing on the exploration, discovery, and colonization activities of Portugal and Spain. The Colombian Exchange, the collision of old and new worlds, and the resulting exploration, colonization, and acculturation are explored in "1492: An Ongoing Voyage." "African-American Mosaic" and "African-American Odyssey" each contain several maps. "John Bull & Uncle Sam: Four Centuries of British-American Relations" documents U.S. - British relations over 400 years with maps related to exploration, colonization, and the Revolutionary War. "Language of the Land" is based on literary maps.
University of Georgia
The Hargrett Rare Book and Manuscript Library

This collection of more than 800 maps, dating from 1544 to 1939, covers primarily North American locations, with an emphasis on nineteenth-century Georgia. Maps are organized into nine chronological and topical divisions: New World, Colonial America, Revolutionary America, Revolutionary Georgia, Union and Expansion, American Civil War, Frontier to New South, Savannah and the Coast, and Transportation. Includes maps of battles, American Indian nations, railroads, and roads. Useful especially for studying military history and Southern development.
University of New Hampshire Dimond Library
Historic USGS Maps of New England

Created by the United States Geological Survey from the 1890s to the 1950s, the more than 1,100 topographical maps in this collection cover New England and selected areas of New York. The maps -- revealing roads, buildings, rail lines, bodies of water, and elevations -- occur in 15-minute and 7.5-minute quadrangle series (a minute is one-sixtieth of a degree of latitude or longitude). In addition, the collection includes six maps with 30-minute quadrangles. For most states, users can view a state image map and select a point within a grid marked off in 15-minute increments to find listings for available images accompanied by the dates of survey, creation, and revision. Towns within each quadrangle are listed along with names of adjacent areas, and users also may search an alphabetical list of towns within each state. Maps are presented in JPEG format and are typically two megabytes, so download times may be slow.
Office of Coast Survey, National Oceanic and Atmospheric Administration
Historical Map and Chart Collection
Provides more than 1,000 historical maps and nautical charts, mostly from the nineteenth century, produced or acquired by the Office of Coast Survey. Includes a Civil War collection of approximately 500 maps; a 90-sheet 1888 topological survey of the Washington, D.C. area; a 48-sheet topological survey of Cincinnati made in 1912; and 16 facsimiles of explorer George Vancouver's charts of the Pacific Northwest made between 1791 and 1798. Additional resources include 27 maps of the Erie Barge Canal created between 1917 and 1923; a 43-sheet survey of the Mississippi River made between 1868 and 1880; and approximately 50 sketches of landscape areas along both coasts. Maps can be viewed at 100 dpi or downloaded at 300 dpi and are organized by region and type of map.
Library of Congress, American Memory
Map Collections: 1500-1999
Focusing on Americana and "cartographic treasures," this large collection of maps covers the 16th century to the present day. Special presentations include essays on "George Washington: Surveyor and Mapmaker," "The 1562 Map of America by Diego Gutiérrez," and "National Atlases: Presenting the Nation's Cultural Geography." Users may zoom in to view details and download maps. Many specific map collections are contained within this large site including: "Discovery and Exploration;" "The American Revolution and Its Era;" "Railroad Maps, 1828-1900;" "Panoramic Maps, 1847-1929;" "Civil War Maps;" and "Mapping the National Parks."

British Library, London
Map History/History of Cartography
maintained by Tony Campbell, Map Librarian (retired)
With an emphasis on early maps, this comprehensive gateway offers links to more than 100 sites on historical maps and the history of cartography. Includes sites offering images of early maps as well as sites that explore map collecting, web projects on early cartography, histories of maps, and articles on cartography. Searchable by index or keyword. Extremely useful starting point for online cartographic resources.

KartLab, Cartography Section, Utrecht University, The Netherlands
Odden's Bookmarks: The Fascinating World of Maps and Mapping
A gateway to more than 14,000 sites on and about cartography and geography. Allows searching by keyword and browsing by countries and categories, including maps and atlases, collections, societies, departments, government cartography, libraries, and literature. Provides links to 585 sites that offer historical maps and atlases.
The University of Texas at Austin
Perry-Castañeda Library Map Collection

These 500 historical maps of the U.S. are sorted thematically. Materials include three maps of early inhabitants, 11 of exploration and early settlement from 1675 to 1854, and 15 of territorial growth from 1775 to 1970. Of the 95 military history maps covering engagements from 1763 to 1967, 50 focus on World War II. Among 183 late nineteenth- and twentieth-century maps are 146 of U.S. cities produced around 1920. Historic sites, memorials, and battlefields are represented in 191 maps of sites such as Aztec ruins in New Mexico, the Bering land bridge in Alaska, and the Vicksburg battle site in Mississippi. Most of the maps are excerpted from twentieth-century historical atlases.
Cartography Associates
The David Rumsey Collection

A private collection currently presenting more than 4,400 historical maps of North and South America. Rumsey, a builder and real estate developer, is gradually making his personal collection accessible to Web users via two formats: a standard browser designed for the general public, and one requiring Insight Java software (can be downloaded) for more serious researchers. Most of the maps were made in the eighteenth and nineteenth centuries; many are notable for their craftsmanship. Includes "atlases, globes, school geographies, books, maritime charts, and a variety of separate maps, including pocket, wall, children's, and manuscript." Searchable by country, state, publication author, keyword, date, title, event, subject, and name of engraver or printer. Users may zoom in to view details. Especially useful for its ability to convey ways that locations have changed over time.
Smith Center for Cartographic Education, University of Southern Maine
Osher Map Library
Twelve exhibitions offer more than 500 maps and related documents centering on aspects of history revealed through the study of maps. Many exhibits deal with Maine and New England locales. Exhibits that focus on American history include "The American Way," a collection of twentieth-century road maps and guidebooks; "Carto-Maine-ia," on popular uses of maps; and "Maine Wilderness Transformed." In addition, "The Cartographic Creation of New England," addresses European exploration and settlement, "The 'Percy Map,'" presents a map significant for its use during the Revolutionary War; and "John Mitchell's Map," called "the most important map in North American history," offers insight into diplomatic disputes. Valuable for studying the history of exploration, colonial history, New England history, and the importance of cartography in American history.